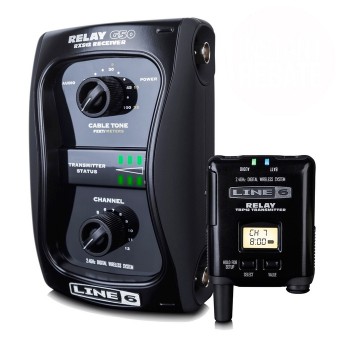 Line 6 Relay G50 Digital Wireless Guitar System
Line 6 Relay G50 Digital Wireless Guitar System
The Line 6 Relay G50 Digital Wireless System provides a pure signal with a clarity that rivals that of the highest-quality guitar cables. Guitars get a beautiful high-end sparkle and basses get a thunderous low-end punch, even at distances of up to 200 feet. Traditional wireless systems compromise the sound of your instrument by rolling-off crucial high- and low-end frequencies and compressing their signals. This system on the other hand, offers superior sound with full bandwidth and zero compression.
Features:
200-foot range, line-of-sight

Broad 10Hz - 20kHz frequency response; Superior 120dB dynamic range; 24-bit digital conversion

8 hours of battery life (AA alkaline batteries)

Lightweight, low-profile and easy to use

Bright LEDs and LCD show power, status, and battery life

EQ presets match Relay G50 to the sound of your guitar cable

Comes complete with transmitter, receiver and all necessary accessories including locking cable, power supply and batteries

2.4GHz band is optimal for guitar wireless, FCC/DTV compliant

Multiple layers of signal protection; Encrypted data stream; Simultaneous broadcasts on multiple channels

Rugged metal enclosure
System Specifications:
System: Relay G50 - Metal Stompbox Style System

Transmission Format: Line 6 proprietary digital audio transmission

Frequency Response: 10Hz - 20kHz

Dynamic Range: 120dB

RF Carrier Frequency: 2.4GHz

Compatible Channels: 12

Transmission Range: 200 feet line-of-sight (may vary due to local conditions)

FCC Approval: Part 15 approved, no user-license required
Transmitter Specifications:
TBP12 Transmitter

A/D Conversion: 24 bit Delta Sigma, 128 times oversampling

Input Impedance: 1.3 M-Ohm

Connectors: TA4f

Controls: Power On/Off, Channel Select

LEDs Display: Power, Audio Status

LCD Display: Channel Number, Battery Life

Battery Life: Approx 8 hours (2x AA alkaline batteries)
Receiver Specifications:
D/A Conversion: 24-bit Delta Sigma, 128 times oversampling

Connections: 1/4 inch output, Tuner pass-thru

LEDs Display: Power On, Data Link, Audio status

LCD Displays: Channel Number, Transmitter Battery Life

Controls: Channel Select, Cable Tone Simulator

Power Requirements: DC-1g power supply (9VDC)
Write a review
Your Name:
Your Review:
Note: HTML is not translated!
Enter the code in the box below: