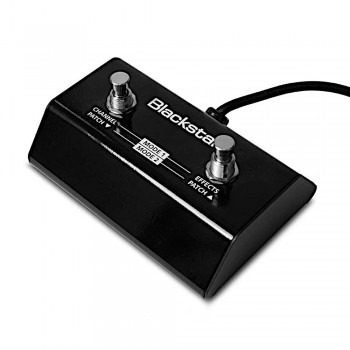 Blackstar FS:11 - 2 Button Footcontroller for IDC:20/40
Blackstar FS:11 - 2 Button Footcontroller for IDC:20/40
Take control of your Blackstar ID:Core Stereo 20 or ID:Core Stereo 40 amplifier with the 2-button Blackstar FS-11 footcontroller. The all-metal FS-11 offers two modes of operation to make all of your gigs and rehearsals run smoothly. Mode 1 offers the standard channel switching and effects on and off functions, and mode 2 lets you scroll up and down through your presets so you can quickly access your next sound. Capture the full functionality of your Blackstar ID:Core Stereo amp with the Blackstar FS-11 Footcontroller.
Features
Use to Control Your ID:Core Stereo & BEAM Amplifiers

Select Between 2 Different Modes For Versatility

Alternative Mode Toggles Channels & Effects

Manual Mode Allows Users To Scroll Through Saved Patches

Constructed With Solid & Durable Housing
Write a review
Your Name:
Your Review:
Note: HTML is not translated!
Enter the code in the box below: