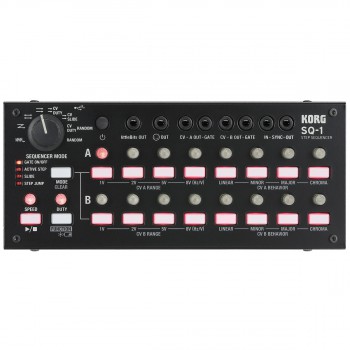 A modern version of the famed SQ-10 step sequencer, the Korg SQ-1 puts 2 x 8 steps, a large selection of I/O, and a variety of synthesizer modes into a convenient, compact package. Although designed as a companion for Korg's MS-20 semi-modular synth, the SQ-1's flexibility lets you control everything from vintage analog synths to the newest compact synthesizers. On top of that, the durable SQ-1 will hold up gig after gig, thanks to its sturdy metal construction.
Features
Lets you control the MS-20, as well as other vintage and modern synths

8 sequencer modes for creative flexibility

Volca-inherited step edit buttons give you loads of improvisatory possibilities

Sturdy metal construction for durability

Battery operation for portability
Write a review
Your Name:
Your Review:
Note: HTML is not translated!
Enter the code in the box below: