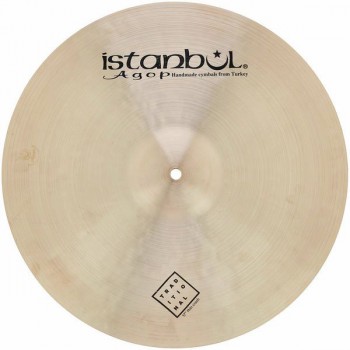 Istanbul 17' Traditional Crash Cymbal
The Istanbul Agop 17'' Traditional Dark Crash brings handmade, heritage cymbal sounds into the 21st Century. Crafted in Turkey by master cymbalsmiths, this dark cymbal's high quality B20 Bronze alloy produces a low, moody crash sound but with a fast response and less high frequency overtones that reacts well at both high and low volumes, with brushes or sticks- great for cutting through without being overbearing. A dark and punchy profile sets the tone whilst also being great to play.
The Istanbul Traditional Dark Crash is fully lathed on both sides, offering a well-balanced and versatile range of tones that suit a broad variety of drumming styles and genres. With a stunning finish and the fabled tone that only Turkish cymbals can provide, the Agop Traditional Dark Crash is a must for drummers seeking a modern cymbal with the tonality of time trusted heritage.
Traditional Series
Istanbul Agop offers a range of Traditional cymbals, available in a variety of styles and sizes so that you can select the perfect cymbals for your setup. All Traditional cymbals are completely lathed on both the top and the bottom which contributes towards the rich tone which the cymbals produce. The lathe marks also add to the stunning design and finish which each Traditional cymbal presents. Due to their sonic versatility, Istanbul's Traditional cymbals are suitable for any drumming styles and genres.
About Istanbul Agop
Steeped in history. Agop Tomurcuk was born to make cymbals. Starting as an apprentice at the tender age of nine, Agop went on to found his own, family run cymbal company in 1980, training his sons in traditional construction methods, and beginning an obsession with high quality percussion that has lasted through the generations.
His sons now run the Istanbul Agop company, which has cemented its place as a favourite among discerning drummers, with fans and endorsees all over the world, and in every genre from jazz, to drum 'n' bass, to metal.
Specifications
Istanbul Agop Series: Traditional

Diameter: 17''

Alloy: B20 Bronze

Cymbal Type: Crash

Finish: Lathed
Write a review
Your Name:
Your Review:
Note: HTML is not translated!
Enter the code in the box below: