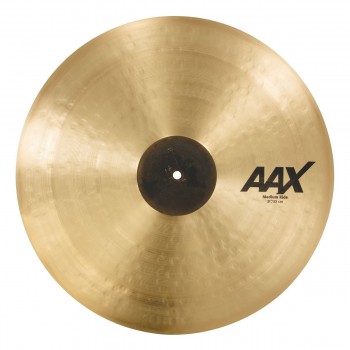 Sabian 21" AAX Medium Ride
Sabian 21" AAX Medium Ride
AAX with a brand-new twist - and a whole new palette of sound. The Sabian AAX 21" Medium Ride introduces a slightly darker tone and a more enhanced crashability to the AAX line of rides. The new, smaller, raw bell style offers more body for riding and increased crashability, as well as a well-defined 'ping'. With a medium weight, you get clear stick definition while retaining washy crashability, which makes it the perfect middle ground, all-around weight choice. Pushing the AAX series to the limit, Sabian are aconstantly at the forefront of innovation. Meeting the demand for more complex and intriguing cymbals, the AAX 21'' Medium Ride provides enhanced versatility and simple crashability to your setup.
Features
New hammering techniques brings darker and more complex tone to the AAX line

Answering the call for thinner, more complex cymbals with increased crashability

Enhanced highs, more complex lows results in a balanced 'full' cymbal sound

Smaller, raw bell results in increased crashability and defined 'ping' from the bell
Write a review
Your Name:
Your Review:
Note: HTML is not translated!
Enter the code in the box below: