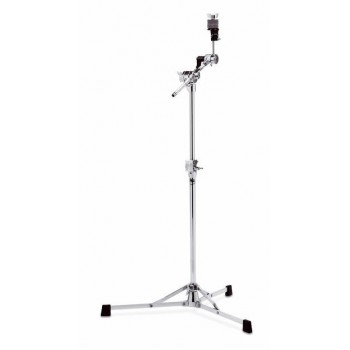 DW Flush Based Cymbal Boom Stand - DWCP6700
For the lightest trap case imaginable, go with vintage-looking 6000 cymbal stands. Included are toothless Tilters with Techlock and Adjustable Cymbal Seats. The vintage-style flush-base leg assembly and smaller diameter tubing of 6000 Series stands provide a practical hardware option that is significantly lighter without sacrificing quality or performance.
Features
Low-profile and lightweight aluminum Flush Base Design

The patented Cymbal Seat Adjustment can be raised or lowered and quickly locked in place to adjust cymbal movement as needed

Integrated Cymbal Seat & Wingnut Felt keep your parts on the stand or in your hand... not on the floor, where they always seem to diappear!

The Toothless Tilter with TechLock allows for infinite adjustment and secure positioning.

The TechLock secondary drum key locking system is inspired by working drum techs. On all DW 9000 hardware, it's a safe-guard against slippage.

Hinged Memory Locks are included at tube joints to guarantee 100% repeatable, precise height settings every time.
Specifications
1/2" upper tube

5/8" middle tube

3/4" base tube

6700: 1/2" boom arm
Write a review
Your Name:
Your Review:
Note: HTML is not translated!
Enter the code in the box below: