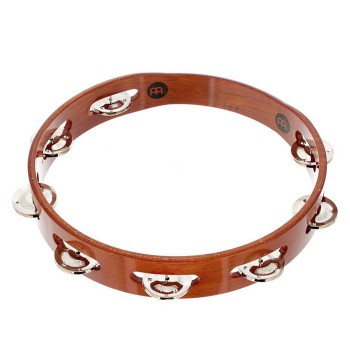 Meinl TA1A-AB Wood Tambourine with Single Row - Aluminum
Meinl TA1A-AB Wood Tambourine with Single Row - Aluminum
Traditional Wood Tambourines from the MEINL collection are the perfect choice for ultra-bright, shimmering jingle accents that respond beautifully at any volume level. The sturdy wooden frame delivers a natural, warm attack followed by the sensitive cutting sounds of the jingles with a slight high-pitched sustain. An ergonomic grip gives you total control of the instrument. This model is equipped with aluminum jingles that cover the middle ground between dry and bright sounding. Their pitch is medium-high, giving them the ultimate range between soft and loud. These tambourines are great for percussionists and drummers, but any musician or vocalist will find them extremely useful in their playing as well.
Features:
With aluminum jingles

Single row with 8 pairs of aluminum jingles

Wooden frame

Colour: African brown
Write a review
Your Name:
Your Review:
Note: HTML is not translated!
Enter the code in the box below: