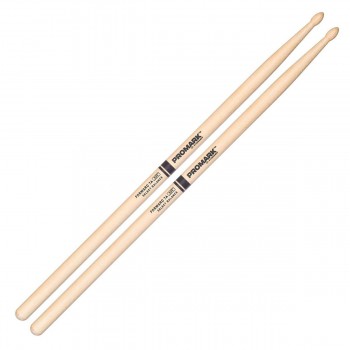 ProMark Hickory 7A "The Natural" Wood Tip drumstick
This Forward 7A drumstick features our raw finish which provides a natural, sanded down wood feel in the hands of the player. Diameter : .512" / 13mm / Length: 15 3/8" / 390.5mm

ProMark Classic Forward drumsticks feature a forward-weighted design for increased force into the playing surface. Available in various diameters, lengths, finishes, and wood types including FireGrain.

American Hickory is the most popular wood choice for drumsticks due to its resilience, responsiveness, durability, and classic feel. The thin, 7A diameter drumstick is ideal for kids and beginners.

The ProMark Classic oval wood tip provides a full-bodied, warm tone suited for multiple applications

The ProMatch process ensures unrivaled consistency of weight and pitch from stick to stick, and pair to pair

All ProMark drumsticks are designed, engineered, and manufactured in the USA

Packaging and stick artwork may vary
Write a review
Your Name:
Your Review:
Note: HTML is not translated!
Enter the code in the box below: