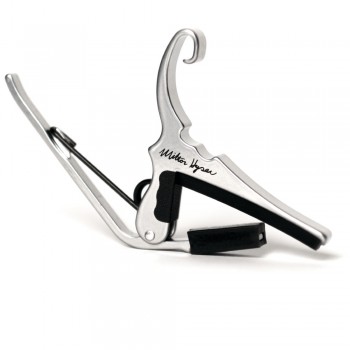 Kyser 40th Anniversary Milton Signature Capo
Kyser 40th Anniversary Milton Signature Capo
Just about anybody who's ever held a guitar knows Milton Kyser's Quick-Change Capo. For 40 years, it's been in every gig bag and at every gig, known as the standard for fast key changes and reliable intonation. Kyser is proud to put its name on each and every one, crafted by hand using American materials, right in East Texas. Milton Kyser never rested on his laurels, so to celebrate its 40th anniversary, Kyser is making the world's best trigger capo even better.
Milton always liked to "make 'em shine," and that's exactly what Kyser strove for in the 40th Anniversary Milton Kyser Signature Acoustic Quick-Change Capo. This limited-edition capo is an homage to the classic Quick-Change, topped with a chrome powder coating and specially adorned with Milton Kyser's signature. Kyser added an all-black silicone boot and appointments, including a unique, low-tension spring, designed to offer a lighter touch while still maintaining perfect tuning. It's all wrapped up in a collectible box, complete with a Certificate of Authenticity and Quality Control signed by Milton's great-niece, Kyser President and Owner Meredith McClung.
Features
Classic Quick-Change construction

Exclusive chrome finish

Milton Kyser signature badge

Black low-tension spring for tuning stability

Blackout appointments, including protective boot and rubber pad

Premium gift box-style enclosure

Hand-numbered and signed Certificate of Authenticity
Kyser Guarantee
Your Kyser Quick-Change was manufactured to give you years of service, and is fully warrantied to the original owner against defects in materials and workmanship for the lifetime of the product.

If this product ever fails due to a manufacturing defect, even after extended use, we will gladly repair or replace the product (at our sole discretion). This warranty does not cover damage caused by accident, improper care, negligence, normal wear and tear, or the natural breakdown of colors and materials over extended time and use.

Usage & Care Recommendations
Position the Kyser Quick-Change as close as
possible to the fret to be clamped. The Kyser Quick-Change is designed to
 eliminate interference with the fretboard playing
 hand. To accomplish this, position the Kyser
 Quick-Change such that the string spanning
 clamping jaws do not protrude past the lower edge of the fretboard.

The Kyser Quick-Change should not remain
 clamped on the guitar strings when not in use.
 Removing the Kyser Quick-Change from the 
guitar allows the rubber strip to restore 
itself to its original shape.

Always unclamp the Kyser Quick-Change to 
move it. Do not slide it up and down the fretboard.

Periodically, oil the pivot and the spring contact
 points.
Write a review
Your Name:
Your Review:
Note: HTML is not translated!
Enter the code in the box below: