24 May

Posted By
Focusrite
,
Novation
,
Scarlett
,
Clarett+
,
Lunchkey
,
Launchpad
,
Peak
,
Summit
,
Bass Station
,
Hitmaker
,
Expansion
,
Massive
Hitmaker Expansion Update and Ableton Live Suite Offer
Get ready for summer! The good people at Focusrite are getting the fun part of the year kicked off with some enormous savings and a glorious boost to the already awesome, Hitmaker Expansion Pack.
Check out the details below.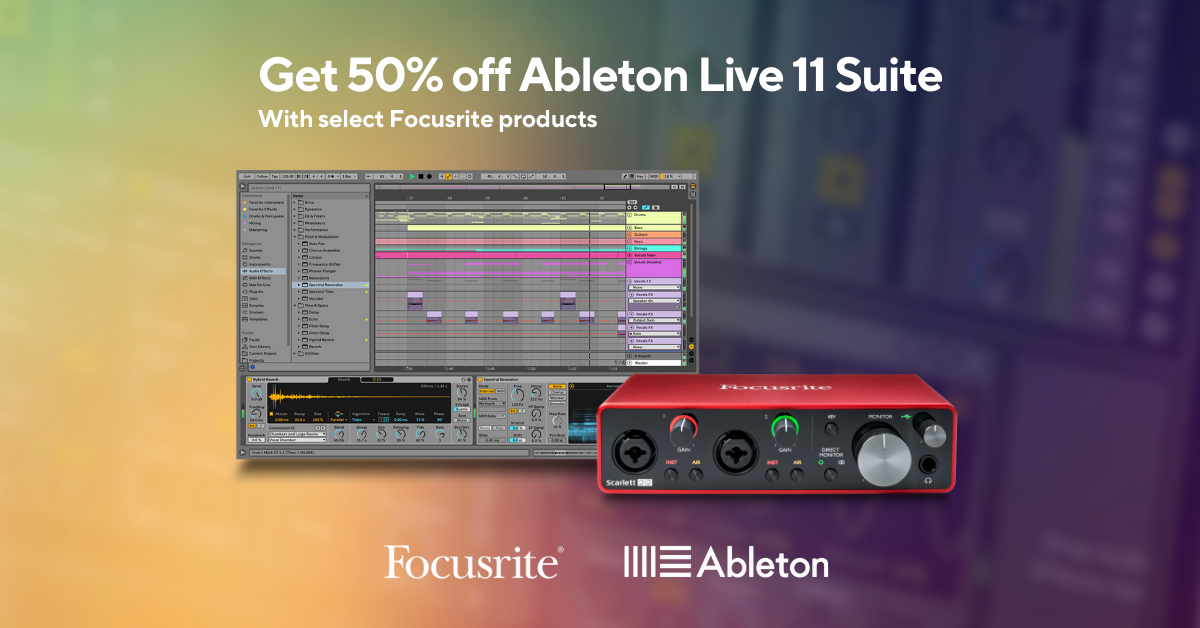 Superb Savings! Focusrite, Novation and Ableton Live 11 Suite
As usual with a range of Focusrite and Novation hardware, they currently include Ableton Live Lite as the preferred software. This has always been an amazing stepping stone for anyone getting in to recording or production to feel their way around Ableton and most people, I think, will upgrade their Ableton Live licenses later down the line.
In a new limited offer, Focusrite have fully partnered with Ableton to allow customers buying select Focusrite and Novation hardware to get a massive 50% off an Ableton Live 11 Suite upgrade. With a saving of hundreds this makes choosing Focusrite and Novation hardware for a customer wanting to use Live Suite a no-brainer, particularly for lower-cost hardware.
This limited time offer is exclusive to Focusrite and Novation until June 30th 2023.
All you need to do is, once you've purchased the Focusrite or Novation product, register on Focusrite's website to access your 50% Ableton Live Suite discount.
It couldn't be easier.
The Applicable Products:
Focusrite
Novation

But wait! There's more!
Focusrite Hitmaker Expansion 3.0 – The MASSIVE Update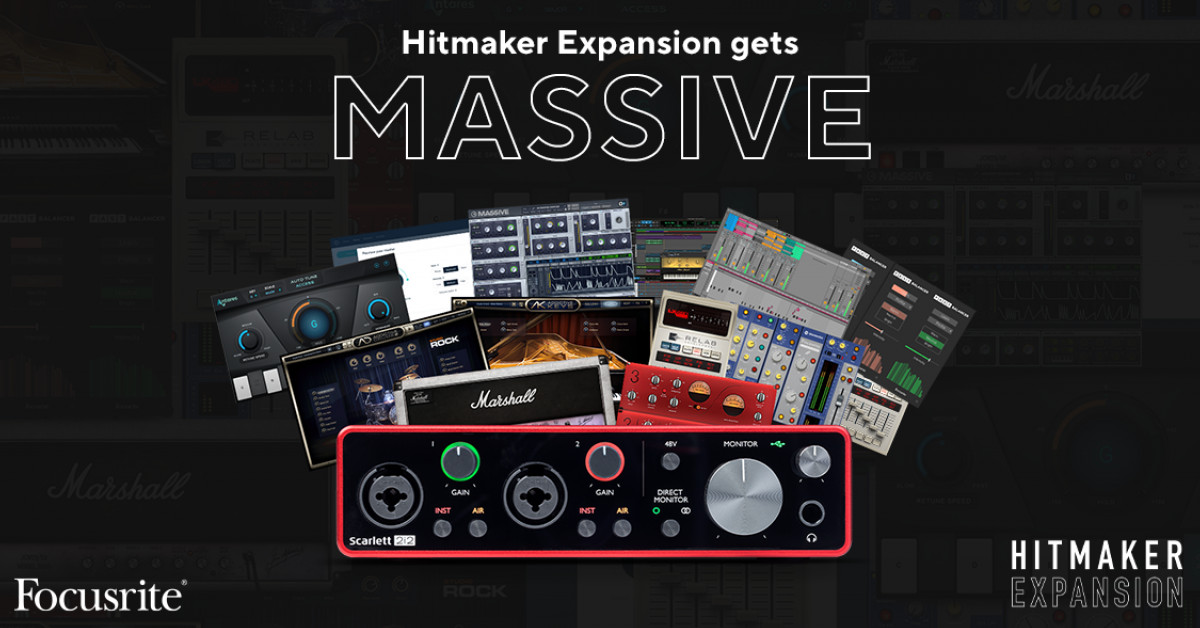 HITMAKER EXPANSION IS BIGGER AND BETTER THAN EVER
Included with every Scarlett, Clarett+ and Red interface, Hitmaker Expansion has everything you need to bring big studio sound to your songs, with an unbeatable range of record-making studio tools from the biggest names in the business. And it just got even better.
Hitmaker Expansion now includes the legendary MASSIVE synth from Native Instruments®. If you're looking to add some real drama to your track, MASSIVE delivers high-end big synth sounds — from huge bass to scorching leads.
The powerful synth engine delivers stunning quality and a huge array of sounds to power and inspire your music-making. If deep-diving into synthesis is not your thing, there are over 1,300 production-ready presets that you can use as is, or fine-tune to perfection.
And there's more — FAST Balancer also joins the Hitmaker Expansion list. When you want the fast-track to a solid mix, FAST Balancer accelerates the process using a powerful AI that listens to your instrument or vocal tracks and serves up three selectable options to enhance your track and help them shine in the mix.
In addition to Native Instruments® MASSIVE and FAST Balancer, Hitmaker Expansion includes a great selection of tools to take your music from creation to release.
Get inspired and capture ideas with Antares Auto-Tune® Access, Softube Marshall® Silver Jubilee 2555, and XLN® Addictive Keys and Addictive Drums 2: Studio Rock Kit.
Get a great mix with powerful studio tools including Relab® LX480 Essentials, Focusrite Red 2 & 3 Plugin Suite, and Brainworx bx_console Focusrite SC.
Master and release with a two-month subscription to Landr Studio plus five free masters to use at any time, even after your subscription period is over.
Hitmaker Expansion is bigger than ever with software to inspire new ideas for every part of the writing, recording, and production process — and Landr Studio for mastering and release.


Don't delay! Get yourself set up for playing and producing now.