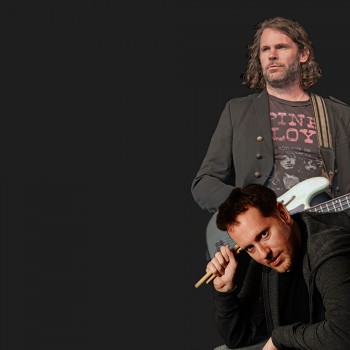 Tim Lefebvre and Zach Danziger (Donny McCaslin Band) Masterclass Ticket
The Donny McCaslin band play two sold-out shows in Dublin's National Concert Hall and we're delighted to welcome Tim Lefebvre and Zach Danziger from the band into Musicmaker for a specialist masterclass on October 24th from 11am-12:30pm.
This is an excellent opportunity to learn, and get insight from, two world leading talents in both bass and drums. Places limited.
Tim Lefebvre Bio: Throughout his wide-ranging career, Tim Lefebvre has amassed a reputation for being one of the world's most innovative bassists. The Foxboro-native's creative playing style is an addictive blend of jazz improvisation, rock undertones, and electronic grooves that can be heard on his appearances on over 150 recordings, ranging from Grammy award-winning albums such as David Bowie's Blackstar to the soundtracks of classic films such as The Departed. Now based in Los Angeles, Lefebvre is currently the bassist of the dynamic blues rock ensemble Tedeschi Trucks Band, and he can be heard on their two most recent releases, Let Me Get By (2016) and Live From The Fox Oakland (2017). Before joining the group, he has worked with artists such as Wayne Krantz, Chris Botti, and Leni Stern, and he continues to work with contemporary artists such as Empire of the Sun, Knower, Matisyahu, and his fellow Blackstar­ bandmates in the Donny McCaslin Group. Through all of these experiences over the past two decades, Lefebvre has constantly expanded his musical artistry, discovering new sounds for the bass guitar and influencing a generation of bassists along the way.
Zach Danziger Bio: Like a musical cat, Zach Danziger has had more lives than most drummers have sticks. The New York-born drummer cut his teeth with Michel Camilo, Chuck Loeb, and Wayne Krantz, but just when his rhythmic intelligence seemed destined to make him the next chops-heavy drum star, Danziger jettisoned fusion work for his drum 'n' bass project, Boomish. Danziger then tackled soundtrack drumming on films such as Ocean's Elevenand Analyze That.
These days, when not gigging with Boomish or playing in the house band for The Caroline Rhea Show, Danziger uses his considerable programming skills to score films and television. His credits include Daredevil, Blade 2, and Big Fat Liar. How does he do it? "You have to wear clothes so you don't scare the client," Danziger says, with the same barmy sense of humor that makes Boomish such a kick in the head.
Danziger still loves to blow, but his soundtrack experience influences every note he plays. "Now that I'm into programming and production," he says, "when I play drums I'm always thinking in that way. They can loop a bar over and over again, so I might change the groove every two bars, knowing it gives them more to work with. Much of what I play is cut up and edited afterwards. It's rare that I play on a soundtrack where they keep an entire take as-is.
Write a review
Your Name:
Your Review:
Note: HTML is not translated!
Enter the code in the box below: