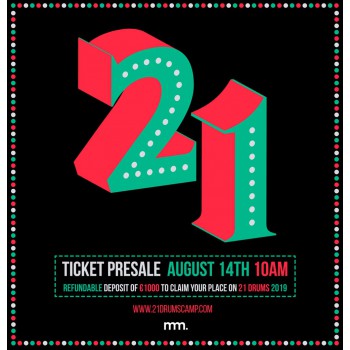 21 Drums Deposit 2019 (Refundable Deposit)
€1,000.00
Ex Tax: €1,000.00
21 Drums Deposit 2019 (refundable deposit)
The sell out international drum camp "21 Drums" returns for what will be a special 5th year in 2019. Be the first on the list!
2019 Pre-sale for 21 Drums Ireland. This refundable deposit gives you first refusal on a 21 Drums 2019 ticket. Line up to be announced in the coming months. Should you choose to take up your option of participation, balance of €1,385 will be due in mid February 2019. Should you choose to return your ticket, a full refund will be returned via bank transfer.
Terms and conditions apply.
Write a review
Your Name:
Your Review:
Note: HTML is not translated!
Enter the code in the box below: