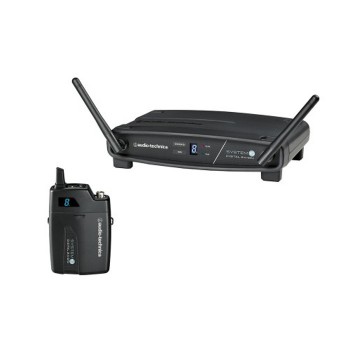 Audio Technica ATW-1101 System 10 Beltpack Digital Wireless System
Audio Technica ATW-1101 System 10 Beltpack Digital Wireless System
Audio-Technica's System 10 is the most reliable digital high-fidelity wireless system of its generation. Designed to provide performing musicians and presenters with advanced 24-bit operation, easy setup and clear, natural sound quality. Featuring stackable, contemporary styling, each configuration includes a mono ATW-R1100 receiver and an ATW-T1001 body-pack transmitter. The ATW-R1100 is a digital receiver offering volume control along with AF Peak and Pair indicator lights.
Features:
Digital 24-bit/48 kHz wireless operation for ultimate sound quality and dependable performance

2.4 GHz range – completely free from TV/ 3G interference

Three levels of diversity assurance: frequency, time, & space

Automatic frequency selection for seamless, interference-free operation

Automatic Frequency Selection. Plug & Play. Ease of use and reliability

Extremely easy operation with instantaneous channel selection, sync, and set-up

State-of-the-art digital receiver for reliable performance

Balanced XLR and unbalanced 1/4" output jacks with level control
Specifications:
Operating Frequencies: 2.4 GHz ISM band

Frequency Response: 20 Hz to 20 kHz Depending on microphone type

Operating Range: 30 m (100') Open range env. with no interfering signals

Dynamic Range: >109 dB (A-weighted), typical

Total Harmonic Distortion: <0.05% typical

Operating Temperature Range: 0° C to +40° C (32° F to 104° F) Battery performance may be reduced at very low temperatures

Audio Sampling: 24 bit / 48 kHz

Latency: 3.8 ms

Receiver - Receiving System: Diversity (frequency/time/space)

Receiver - Maximum Output Level: XLR, balanced: 0 dBV 1/4" (6.3 mm), unbalanced: +6 dBV

Receiver - Power Supply:100-240V AC (50/60 Hz) to 12V DC 0.5A power supply switched mode external

Receiver - Dimensions: 190 mm W x 46.2 mm Hx 128.5 mm D

Receiver - Weight: 290g

Receiver - Accessories Included: Power supply

Belt Pack - RF Power Output: 10 mW

Belt Pack - Spurious Emissions: Following federal and national regulations

Belt Pack - Input Connections: Four-pin Locking Connector,

Belt Pack - Pin 1: GND, Pin 2: INST INPUT, Pin 3: MIC INPUT, Pin 4: DC BIAS +9V

Belt Pack - Battery Type: Two 1.5V AA

Belt Pack - Battery Life: >7 hours (alkaline) Depending on batt. type & use pattern

Belt Pack - Dimensions: 70.2 mm (2.76") W x 107.0 mm (4.21") H x 24.9 mm (0.98") D

Belt Pack - Net Weight: 100g
Write a review
Your Name:
Your Review:
Note: HTML is not translated!
Enter the code in the box below: