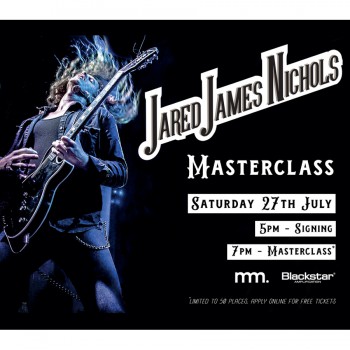 Jared James Nichols Masterclass, Saturday 27th July
Jared James Nichols Masterclass, Saturday 27th July
Known for his soaring blues-rock sound and electrifying performances, Jared James Nichols is undoubtedly one of the hottest guitarists on the scene. We're thrilled to be able to welcome him to Musicmaker for a night of scorching tones and inspiring tales from the frontline of rock 'n' roll.
As well as showing off his signature grunge-fuelled blues-rock, Jared will be using his new Epiphone signature Les Paul Custom, nicknamed Old Glory. He'll also have his fresh signature amp from Blackstar, the JJN-20RH half-stack in Racing Green. It's gonna get VERY LOUD!
Jared will be doing a public signing at 5pm in our new guitar department which is open to the public.
At 7pm we will have a clinic/masterclass limited to 50 places. Tickets must be applied for in advance and are FREE!
Write a review
Your Name:
Your Review:
Note: HTML is not translated!
Enter the code in the box below: