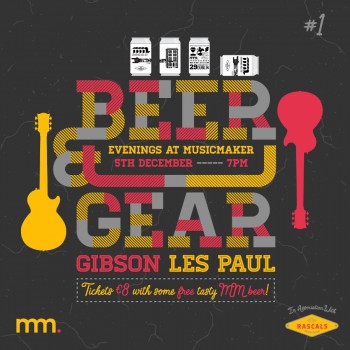 An Evening of Beer & Gear #1 : Gibson Les Paul
An Evening of Beer & Gear #1 : Gibson Les Paul
It's been a long time coming, we're thrilled to announce that MM will soon have our own beer! We've collaborated with Dublin's finest brewery Rascals to come up with something very special, the 'Rockstore Pale Ale'!
To celebrate, we're going to be running a brand new series of events at MM; the 'Beer & Gear' evenings. Our first Beer and Gear Evening will happen on December 5th, where we'll be celebrating one of the most iconic guitars in history, the Gibson Les Paul.
We've chosen some classic albums that encompass why the Les Paul is such a special guitar , along with a panel of experts to talk about these wonderful albums and the guitars that defined them like Appetite for Destruction by Guns N Roses, Exile on Main Street by the Rolling Stones and II by Led Zeppelin!
Expect great tunes from some classic Gibson albums, tasty beer and lots of guitars to try out.
Tickets cost €8 and will include some free MM beer!
There will be limited tickets to this exclusive event, so make sure to grab yours before it's too late!
Write a review
Your Name:
Your Review:
Note: HTML is not translated!
Enter the code in the box below: