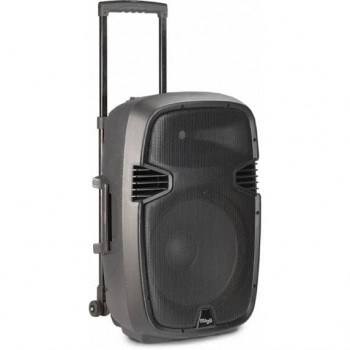 Stagg Portable PA Stagg RE-VOLT15U UK
The Stagg Re-Volt 15 PA System is perfect for buskers and musicians on the go!
This 15" active 2 Way Speaker contains everything all musicians need to make sure that they are heard. With a wide variety of inputs, bluetooth connectivity for backing tracks an traditional mixer controls such as; reverb and treble and bass , you can always make sure you hit the right note!
With a high-frequency response and increased sensitivity and a low impedance at 4 ohms make the Re-Volt 15 a must-have for buskers and announcers everywhere!
Features:
Woofer: 15", 33 oz, 2" VC

Tweeter: 1" titanium diaphragm driver, 8 ohms

Frequency response: 60 Hz

20 KHz

Sensitivity: 92 dB +/3 dB

Impedance: 4 ohms

Sound pressure level: 95 dB +/3 dB

Features: Reverb, Bluetooth wireless technology, trolley

Battery: 12 volts, 7A, rechargeable

Power supply: Built-in charger, IEC input

Microphone inputs: XLR and phone jack combo, phone jack

Line inputs: Phono and auxiliary input, Bluetooth wireless technology

Mix out output: XLR

Controls: Microphone volume, reverb volume, line volume, VCV on/off switch, master volume, treble, bass, Bluetooth wireless technology on/off

Fixation: Speaker base, standard 35 mm (1.37") speaker stand or 2 x 8 mm fixing points

Weight: 16 kg (35.27 lb)

Dimensions: 69 x 43 x 40 cm (27.2 x 16.9 x 15.7")

Colour: Black
Write a review
Your Name:
Your Review:
Note: HTML is not translated!
Enter the code in the box below: