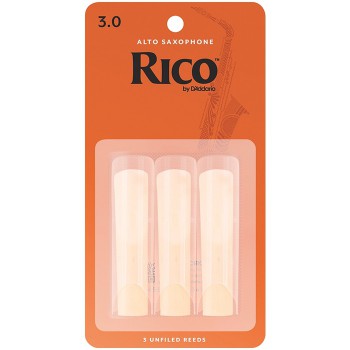 Rico by D'Addario Alto Sax Reeds, Strength 3.0 - 3-pack
Rico by D'Addario Alto Sax Reeds, Strength 3.0 - 3-pack
The Rico Alto Saxophone Reeds are 3.0 strength. The Rico cut is unfiled and features a thinner profile. These reeds are a favourite among jazz musicians as they vibrate easily and are also ideal for students. At an affordable price, Rico's reed are more consistent than ever before. The Rico by D'Addario series of reeds are ideal for students and developing musicians. The reeds are purpose-built to ensure ease of use, without compromising on a smooth playability. The Orange series reeds are made using laser technology for a more consistent playability between each model, as well as an accurate shape. This model has become an industry standard choice for tutors and students alike. The thinner blank and unfiled profile have an easy playability and instant response. Each reed is individually wrapped to retain its freshness for when you require it.
Features:
Number of Reeds: 3

Strength: 3.0

Saxophone Type: Alto

Blank Type: Thin

Filing: Unfiled
Write a review
Your Name:
Your Review:
Note: HTML is not translated!
Enter the code in the box below: