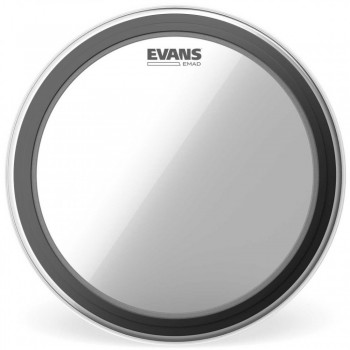 Evans EMAD Clear Bass Drum Head, 22"
Evans EMAD series features a single ply of 10mil film providing an ideal balance of punch, power and low-end. The unparalleled industry standard Externally Mounted Adjustable Damping (EMAD) system allows the player to adjust attack and focus without removing the drumhead.
Features
Evans EMAD System focuses the attack and low-end, providing kick drum warmth

Adjustment of attack and focus thanks to two interchangeable dampening rings

Single-ply of 10mil film creates a more prominent attack than double-ply counterparts

Designed and manufactured in the USA
Write a review
Your Name:
Your Review:
Note: HTML is not translated!
Enter the code in the box below: