12 Sep

*Sorry about the Shred pun, but who could resist that........
Get Your Leather On, it's Time to Work the Shred Machines!

Are Here!
It's no secret that since the 70s, Jackson guitars have been widely recognised as the guitars for heavy metal. And no wonder...
Founded by Grover Jackson, these guitars were always destined for heavy metal guitarists who demanded wicked instruments that could keep up with their lightning-fast shredding techniques. The company quickly gained recognition for crafting guitars that not only looked decidedly badass but also delivered unparalleled riptastic performance.
One of the many iconic features of Jackson guitars is their sharp, hellishly dangerous body shapes.Coupled with some exceedingly slick paint jobs, these designs not only make a bold visual statement but also contribute to improved balance and comfort for players. The slender neck profile and smooth fingerboards allow for lightning-fast fretwork, making them ideal for the intricate solos and rapid palm-muted riffs that define heavy metal.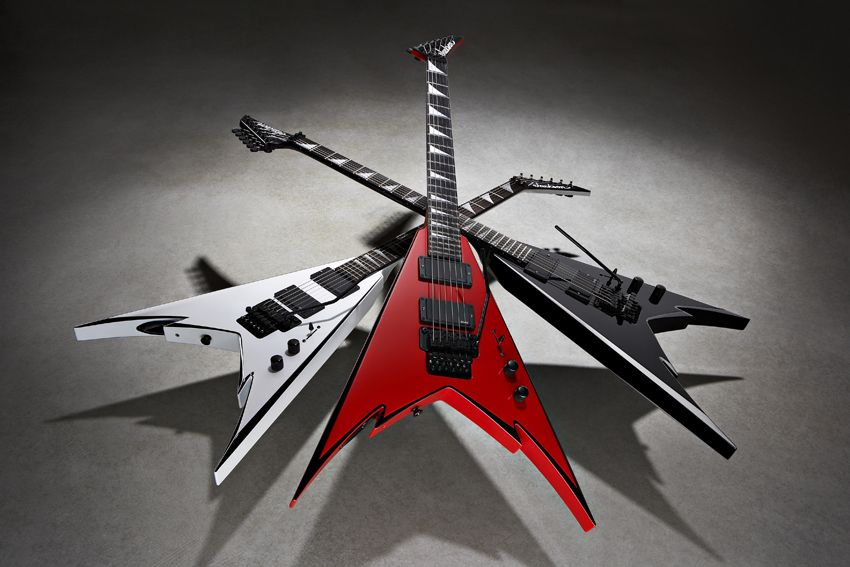 Good Lord! I mean......Satan.....
Jackson's influence on Heavy Metal is impossible to deny. From Metal legends like Anthrax, Iron Maiden and Megadeth to modern juggernaughts like Gojira, Arch Enemy and Machinehead, Jackson guitars can be found on both the craggy peaks and in the dusty tombs of the Metal pantheon.
And, as ever, we at Musicmaker appreciate the warp and weft, the shred and the heft of the Mighty Temple of the Riff.
We've got some extremely sick guitars for you.
Check it out.
Shred Your way to Freedom

Jackson X Series Soloist
Jackson X Series Soloist SL3X DX, Laurel Fingerboard, Frost Byte Crackle: A wickedly sculpted basswood body and the pure, relentless Jackson neck-through-body craftsmanship guarantee unyielding comfort through marathon performances. With monstrous sustain and a silky-smooth journey up to the 24th jumbo fret, this beast is designed to unleash mayhem.

Reinforced with graphite rods coursing through its maple neck, it scoffs at the elements, undeterred. The lightning-fast 12"-16" compound radius fingerboard, cloaked in sinister laurel, is a battleground for primal chording and riffing near the nut, morphing into a territory of relentless, fret-out-free leads as you ascend the neck.

The SL3X DX Crackle roars with a select power trio of Jackson pickups. High-output mini rail humbuckers at the middle and neck positions forge an alliance with a high-output humbucking bridge brute, summoning harmonics that strike like thunderbolts and a responsiveness that's as volatile as the roaring flames. Manipulate their raw force with a single volume, tone controls, and a five-way blade switch – your command over this power is absolute. An embedded Floyd Rose® Special double-locking tremolo bridge system, akin to a metal phoenix, emerges. Its fluidity ensures your axe returns to its original tuning after each apocalyptic dive-bomb, ready for the next onslaught.
The SL3X DX Crackle flaunts Jackson's signature style – ominous black hardware, domineering dome-style control knobs, an unbreakable finish that scoffs at sweat and grime, menacing pearloid sharkfin fingerboard inlays, and the iconic 6-in-line headstock that pierces the night like a battle standard.

The Jackson Pro Series Soloist
Jackson Pro Series Soloist SL3R, Ebony Fingerboard, Mirror: Crafted from the heart of resonant basswood, its body boasts sinuous, ergonomic contours, a portal to the dark unknown. Bound to a neck-through-body maple masterpiece with a defiant scarf joint, this beast laughs in the face of fatigue. Graphite-reinforcement rods fortify it against the sinister forces of climate, standing like a fortress against the warping of reality. Its oiled back finish ensures a frictionless journey through the abyss of notes.
A portal to madness awaits on its 24 jumbo frets, a bound ebony fingerboard that knows no boundaries. Its compound radius, shifting from 12" to 16", beckons you to embark on a technical odyssey. At the nut, it cradles your chords with comfort, but as you ascend, it morphs into a battleground for lightspeed battles and wide bends, where fretting out is but a distant nightmare.
A Seymour Duncan® Distortion™ TB-6 bridge pickup emerges from the abyss, roaring with menacing lows and searing highs, ready for the onslaught of rock or metal. Flanking it are direct mount Seymour Duncan Custom Flat Strat® SSL-6 Single-Coils in the middle and neck positions, like ancient guardians of arcane tones. Their glassy bite and power are the sonic incantations you need. This unholy trinity promises both unyielding sustain and cleans that sparkle like forbidden gems.
Navigate the realms of tonal sorcery with a five-way pickup blade, your staff of power, and single volume and tone controls, your incantations. Take flight, dive, and ascend with the Floyd Rose® 1000 Series double-locking tremolo system, the portal to sonic chaos, recessed for the comfort of your pick hand, guaranteeing laser-accurate intonation and a tuning as stable as the earth's core.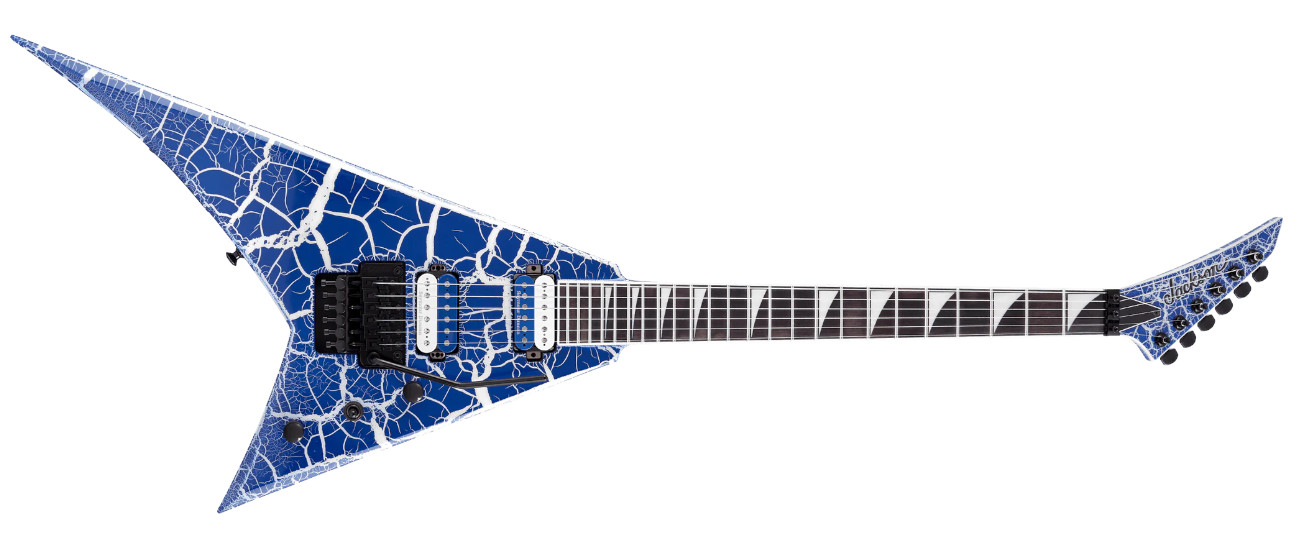 The Rhoads RR24......dangerous looking beast.....
Jackson Pro Series Rhoads RR24, Ebony Fingerboard, Lightning Crackle: Jackson's first customer was the legendary guitarist Randy Rhoads, who asked the company to create a model that met the demands of his technically-challenging playing along with visual panache. His famed Rhoads model has continued to evolve ever since in order to meet and exceed the needs of players who came of age listening to his groundbreaking work.
Now, carrying the torch of this legacy, Jackson present the Pro Series Rhoads RR24 Crackle – a manifestation of pure power. Its basswood body stands resolute, bonded to a through-body maple neck, fortified by twin graphite rods, a testament to its unyielding defiance against the elements, a guardian against the unpredictable whims of temperature and humidity. The neck, a gateway to chaos, boasts a streamlined profile, a path cleared for blistering guitar sorcery, and an invitation to ascend to the upper realms of the fretboard with ease.
Behold the ebony battlefield, a 12"-16" compound radius fingerboard, bound in obsidian, a canvas designed for lightspeed warfare. It cradles your chords in its curvaceous embrace near the nut, and as you climb towards the heavens of the neck, it transforms into a desolate landscape for lightning-fast duels and wide bends, where fretting out is but a distant memory.
Seymour Duncan® JB TB-4 bridge and Seymour Duncan '59 SH-1N neck pickups, the sentinels of sound, join forces, offering an arsenal of tones. From molten heavy artillery with volcanic output to the silk-smooth leads and thunderous rhythms, every note you summon is drenched in definition. Three-way pickup toggle warfare, flanked by single volume and tone knobs, hands you the reins of tonal chaos. The Floyd Rose® 1000 Series double-locking tremolo system emerges, the portal to sonic oblivion, where fluttering notes and savage dive bombs are executed with a surgeon's precision, your tuning integrity never in question.
The Pro RR24 Crackle, an icon in the pantheon of Jackson's offerings, proudly bears the insignia of its lineage. From the blistering Lightning or Maul Crackle finish, the pearloid sharkfin inlays, the reverse pointed 6-in-line headstock adorned in matching crackle attire, to its revolutionary body design that strikes fear into the hearts of mere mortals, this instrument is a testament to the unyielding spirit of Jackson. It's not just a guitar; it's a declaration of war, a call to arms for the metal elite.
Take that, Pop music.
Isn't it time we gave the bass player some? I believe it is.

JS 5 String Concert Bass
Jackson JS Series Concert Bass JS3VQ, Transparent Black Burst: From distant low-end rumble, the five-string Concert Bass JS3VQ emerges, a titan of the deep, wielding a colossal 35" scale. Its body, hewn from the essence of poplar, resonates with a primal energy, crowned by a quilt maple top, an elegant armor that cloaks it in beauty. The neck, a steadfast companion, is bolted with unwavering determination. Maple, bound and fortified with graphite and a scarf joint, ensures unyielding stability. The amaranth fingerboard, a battleground of darkness, spans a compound radius from 12" to 16", hosting 24 jumbo frets adorned with the heraldic sharkfin inlays.
Twin Jackson high-output humbucking bass pickups, like sentinels of the abyss, summon forth a monstrous growl from the depths, a force that rumbles and shakes the earth itself. The HiMass™ bridge, a fortress of stability, ensures that your sonic onslaught remains unwavering. But the JS3VQ does not stop there; it wields an active 3-band EQ, a portal to endless tonal sorcery, and a pair of volume control knobs to shape and mold your sonic destruction.
A tempestuous bass, pulsating with life and laden with value, the JS3VQ stands ready, adorned in a dark Amaranth finish, its black hardware gleaming like the armour of a dark knight. The Jackson pointed 5-in-line headstock, a banner of the impending storm, points the way to a future drenched in thunderous bass.
So, limber up those fingers and drop into Musicmaker today to test these rock monsters out for yourself.
We await. In the meantime, here's a Jackson in Action with some heavy business featuring Andreas Kisser from Sepultura...
See you soon.