13 Sep

Posted By
Laka
,
Stagg
,
Fender
,
Tenor
,
Soprano
,
Baritone
,
Sapele
,
Gig
,
Bag
,
Beginner
,
Starter
,
Learn
,
Student
,
Affordable
,
Compact
Unleash Your Hawaiian Beast: The How's and Why's of the Ukulele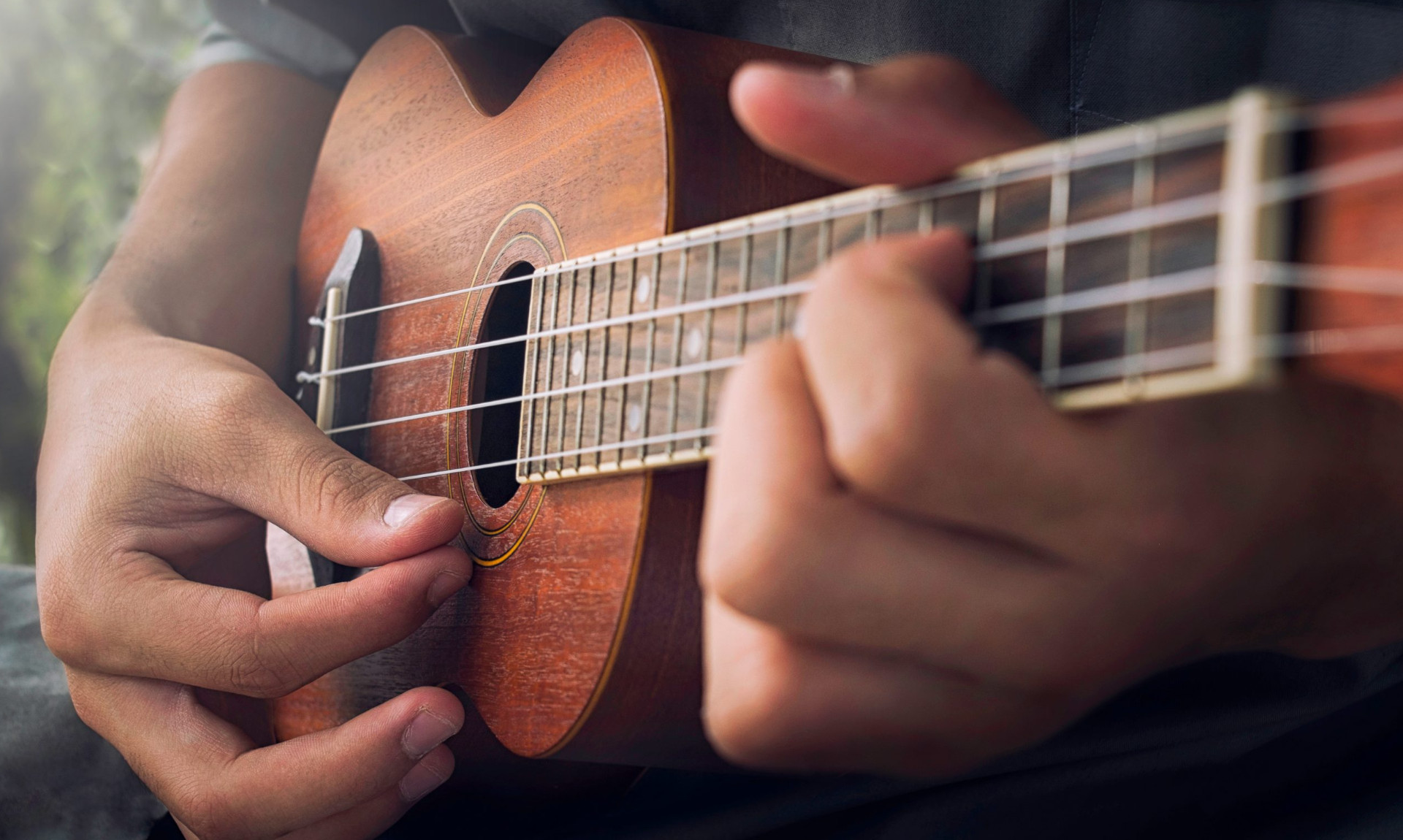 So, you've decided to embark on a musical journey, and you've chosen the ukulele as your trusty companion. Congratulations! You're about to dive into the world of light, charming melodies, tropical vibes, and a whole lot of fun. Whether you've been inspired by the sweet sounds of the ukulele or you simply want to pick up a new skill, this beginner's guide will, hopefully, help you get started on a lifelong musical adventure.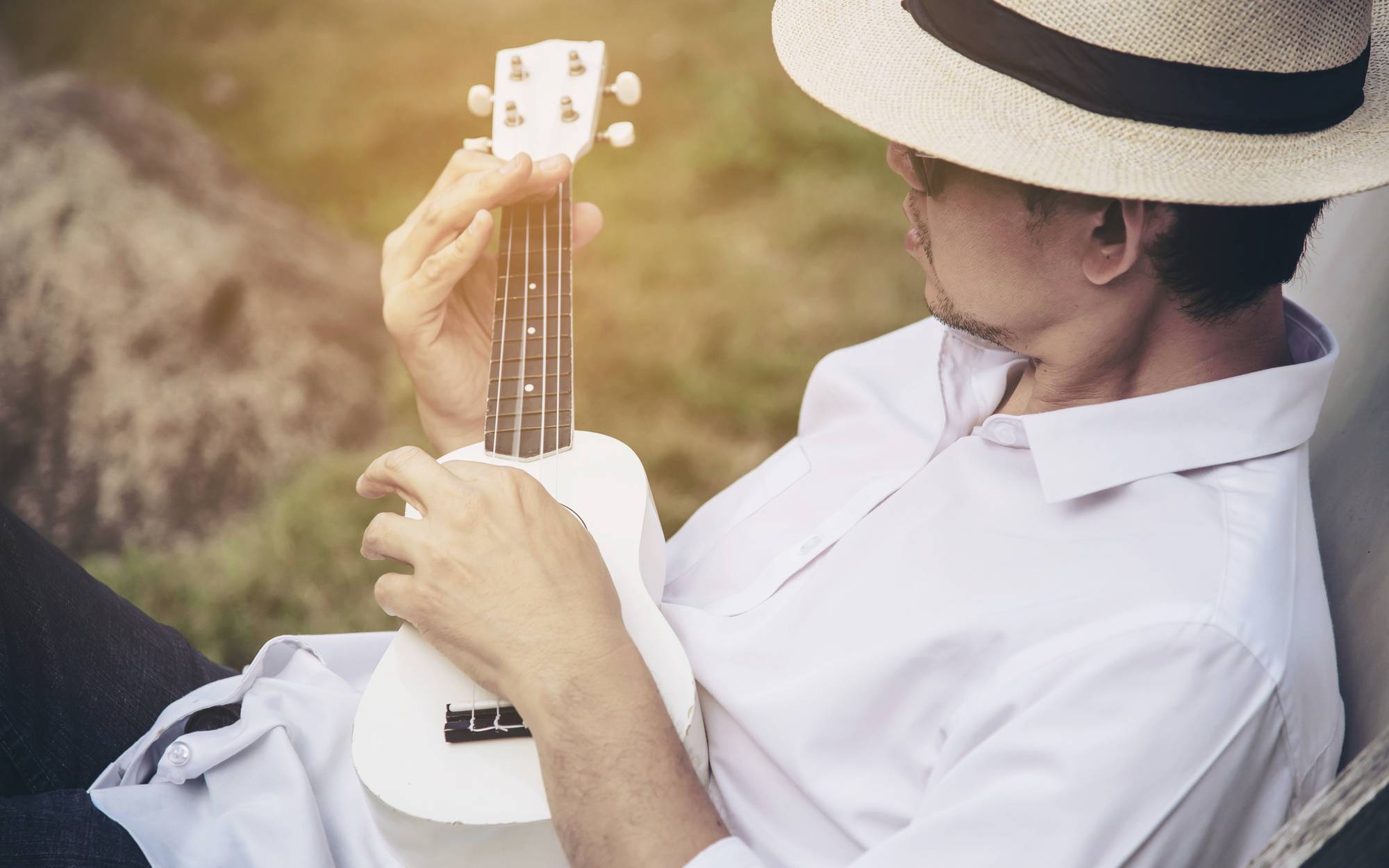 You too can be this suave...
Why the Ukulele?
The ukulele, often affectionately referred to as the "uke," is a fantastic choice for beginners of all ages. It's a small, lightweight instrument with only four strings, making it much less intimidating than some of its larger counterparts. Its compact size means you can take it just about anywhere, and it's known for its bright, cheerful sound that's sure to bring a smile to your face. This comfortable size and simplicity of construction means not only are these lovely instruments extremely affordable, but likely, you'll be strumming along happily in no time at all.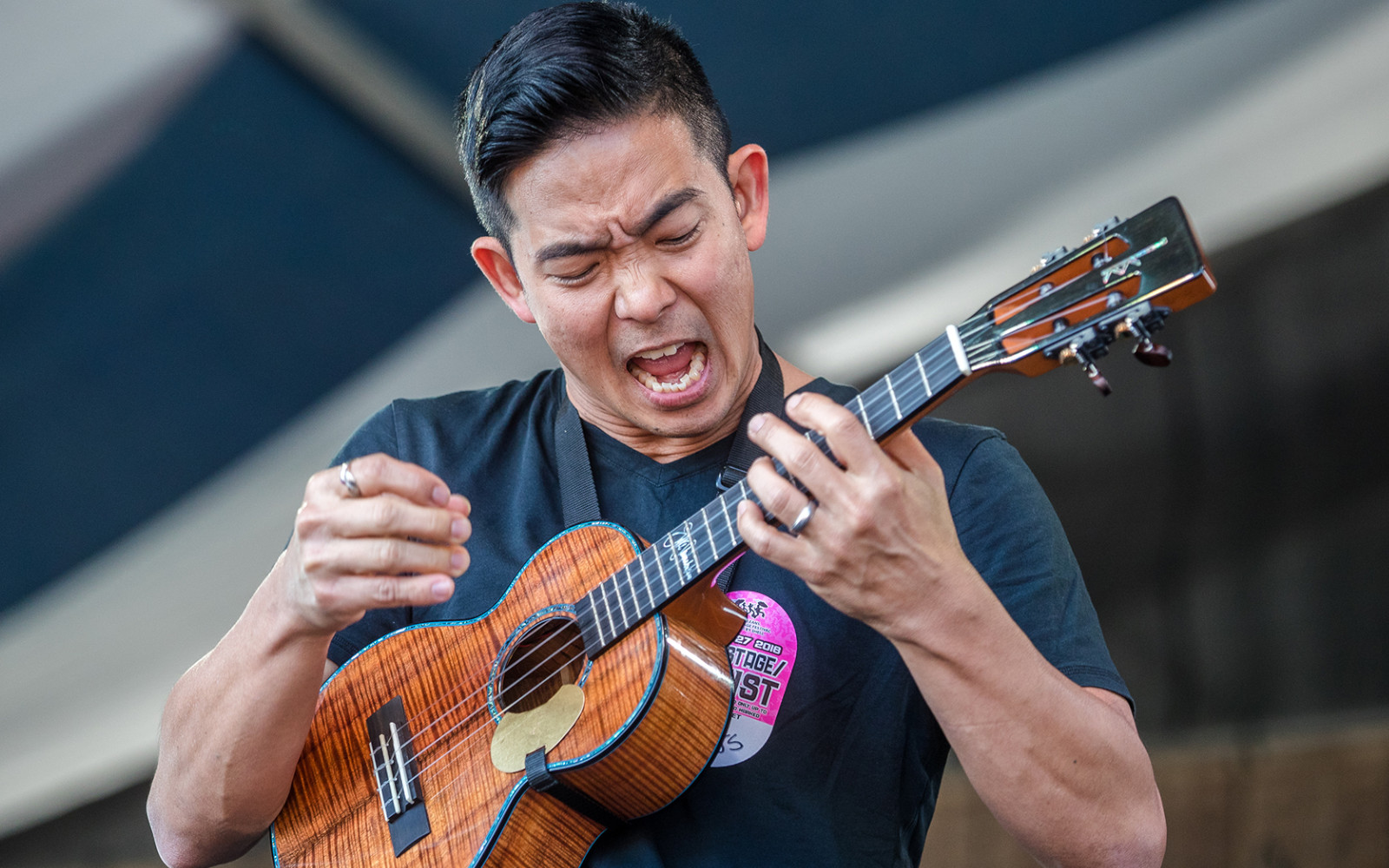 The Ukulele can also, absolutely rock.
Choosing Your First Ukulele
Before you start strumming away, you'll need a ukulele. Musicmaker is very much here to help. There are several types to choose from, including soprano, concert, tenor, and baritone. For beginners, soprano and concert ukuleles are ideal, as they're smaller and more manageable. Keep in mind that quality matters and false economy is very real. While you don't need to break the bank on your first uke, investing in a decent instrument will enhance your playing experience. A decent quality Ukulele will hold its tuning better, be easier to play and will sound far superior to something ridiculously cheap. And all of these are factors that will make you more likely or inclined to practice.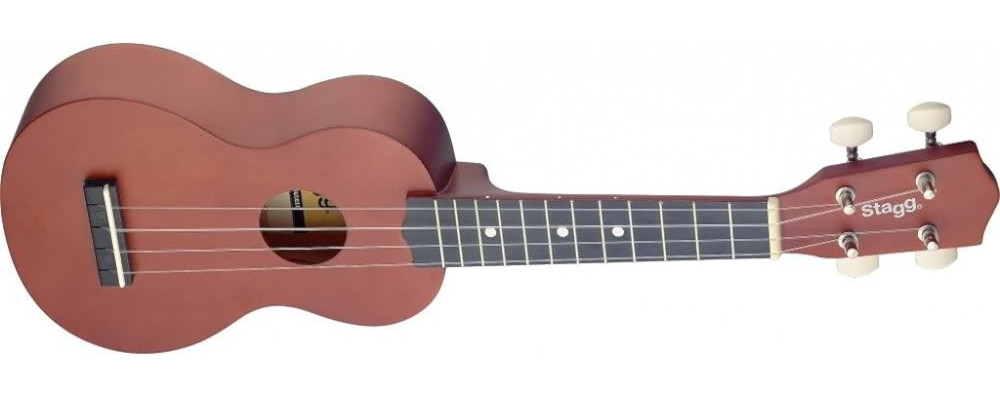 Stagg Soprano Uke, with Gig Bag.
Stagg US-NAT Soprano Ukulele, Natural, With Gigbag: Presented in a delightful natural finish, this gorgeous Soprano Ukulele includes a convenient Black Nylon Gigbag. Crafted with a resonant Basswood body and a sturdy Nato neck, this instrument embodies fun and vibrancy, making it an ideal choice for both beginners and passionate enthusiasts. Simple and very affordable.
Laka VUS5RD Soprano Ukulele - Red: How about the Laka VUS5RD Soprano Ukulele, dressed in a striking shade of red that's sure to turn heads! This charming instrument marries irresistible aesthetics with a lively, vibrant melody. Crafted with meticulous care, it's the ideal companion for both newcomers and seasoned strummers. The VUS5RD boasts a laminated sapele body that unleashes warm, resonant tones, and its nato neck offers a seamless, breezy playing experience. Plus, with reliable geared tuners, this ukulele is your musical partner in perfect pitch, allowing you to dive into your music without missing a beat!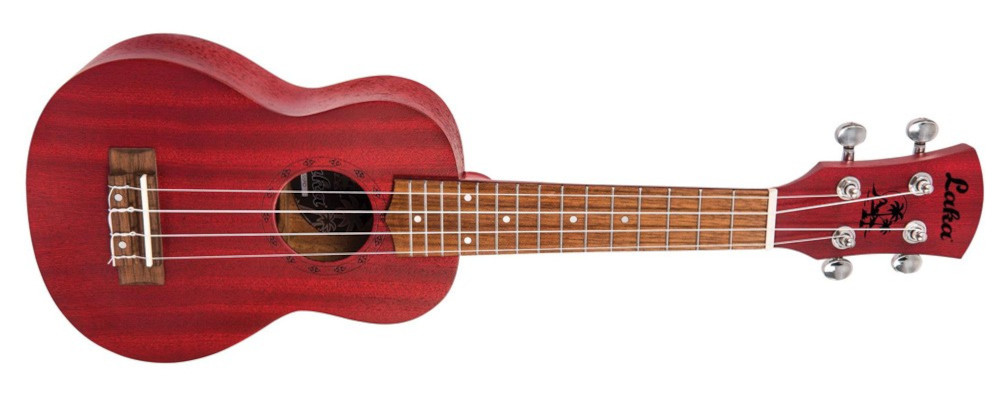 Laka Soprano Uke
Fender Venice Soprano Uke, Walnut Fingerboard, 2-Colour Sunburst: Next is the very beautiful Fender Venice Soprano Ukulele WN—a ukulele as unique as it is melodious. This one-of-a-kind instrument draws its inspiration from Fender's Californian roots, infusing classic Fender tones into an affordable package designed to inspire your musicality. Crafted with a combination of basswood and walnut tonewoods, it offers a rich and diverse tonal spectrum, adding sweetness and warmth to your music.
But what truly sets it apart is its user-friendliness. Thanks to a slim "C"-shaped neck profile, your playing experience is nothing short of delightful. Your music flows effortlessly from your fingertips without the hindrance of hand strain. Plus, who wouldn't want to flaunt their skills on such a distinct ukulele? The striking Fender finish, complemented by a Telecaster-style headstock, adds a touch of individuality that's sure to make you want play.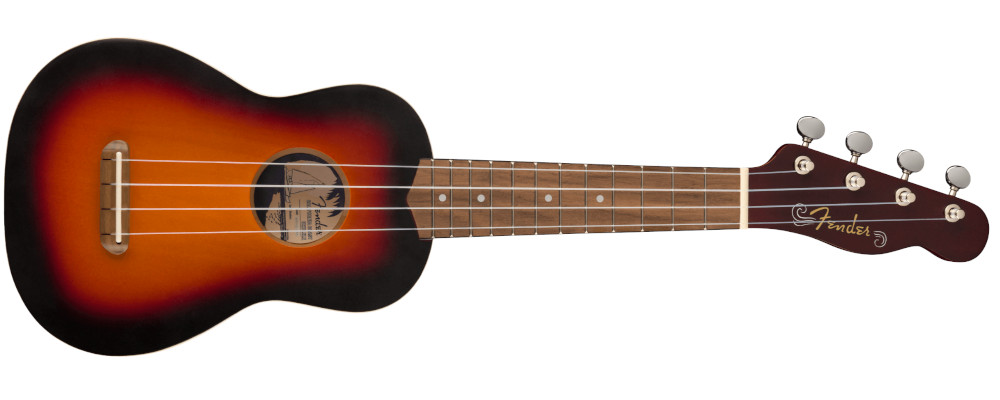 Fender Venice Soprano
Laka Mahogany Series Electro-Acoustic Ukulele & Carry Bag ~ Concert: Finally, check out the Laka Mahogany Series Electro-Acoustic Concert Ukulele. This uke rocks an amazing see-through satin finish that highlights its natural deep brown beauty, making it a real eye-catcher. With an okoume neck, ABS nut, walnut fingerboard, and bridge, it's got the looks and the moves.

Crafted from sapele, this uke brings warm, woody vibes to the party, with a robust low-end, well-defined mids, and naturally resonant highs. Plus, it's all in the details: a palm tree rosette and laser-etched headstock design adorned with the Laka motif, and chrome-plated die-cast tuners. But it's not just about looks and sounds; it's got the size to make a statement too. This Concert Ukulele is bigger than the soprano and packs a punch with its voluminous sound. And when you need to take the show on the road, it's super portable, just like all Laka instruments.

Better yet, for general amplification, studio-quality recordings and captivating live gigs, this uke comes with Laka's own preamp and pickup system. With separate Volume and Tone controls, you can project that signature woody sound through ukulele amps, mixing consoles, and PA setups effortlessly. Coupled with an included gig bag, It's the perfect Uke for beginners thinking to join a group or get into live shows.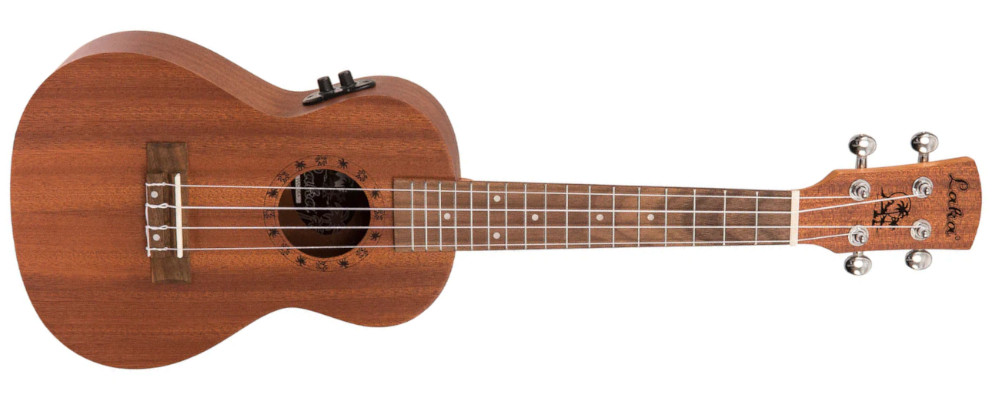 Laka Mahogany Series
Online Resources and Communities
The internet is a treasure trove of ukulele resources. You'll find countless tutorials, chord charts, and song tabs available for free. There are also vibrant ukulele communities on social media platforms where you can connect with fellow beginners and experienced players, share your progress, and seek advice.
Check out the good people at Uke Like the Pros and their corresponding Youtube channel
Andy Guitar is massive in the guitar tutorial world but also does some excellent Ukulele lessons. Check out his Beginner course..
Another chap who's massive in the online guitar tutorial world is JustinGuitar (Seems to be a theme) but check out his comprehensive ukue lessons also. There's lots to learn and you'll be happily strumming away in no time.
Practice, Practice, Practice
This part should be a given really but it's worth mentioning. Learning any musical instrument requires patience and practice. Set aside a little time each day to practice your ukulele. Start with songs you love and gradually work your way up to more challenging pieces. Don't be discouraged by mistakes; they're all part of the learning process. But also, don't force it, some days it won't work or you won't feel like pushing yourself and that's totally fine. This is for you, enjoy it.
Playing the ukulele should be a delightful journey filled with music, creativity, and joy. As a beginner, you have a world of melodies at your fingertips. So, pick up that uke, strum a few chords, and see what happens. Whether you're strumming by the campfire, serenading loved ones, or simply enjoying your own musical oasis, the ukulele is a wonderful companion. Try it, love it, let it take you places.
Places like this.
As ever, if you have any questions for us at Musicmaker, feel free to get in touch via the Intercom button below or send us a message on the Contact page. We are always happy to help.