16 Mar

Posted By
fender
,
stagg
,
sigma
,
epiphone
,
vintage
,
dreadnought
,
spruce
,
basswood
,
mahogany
,
beginner
,
student
,
learn to play
Top 10 Acoustic Guitars for Aspiring Musicians
Buy your first acoustic guitar at Musicmaker
Is it time to start playing guitar or do you need a second instrument to take to gigs and parties? Are you an aspiring musician looking for a quality acoustic guitar that won't break the bank? Look no further than Musicmaker! We carry a wide range of affordable guitars from top brands like Epiphone, Vintage, Jose Ferrer, Fender, Gretsch, and more, so we'll definitely have something suitable for you. Please pop in to the shop to test them for yourself also, it's great fun.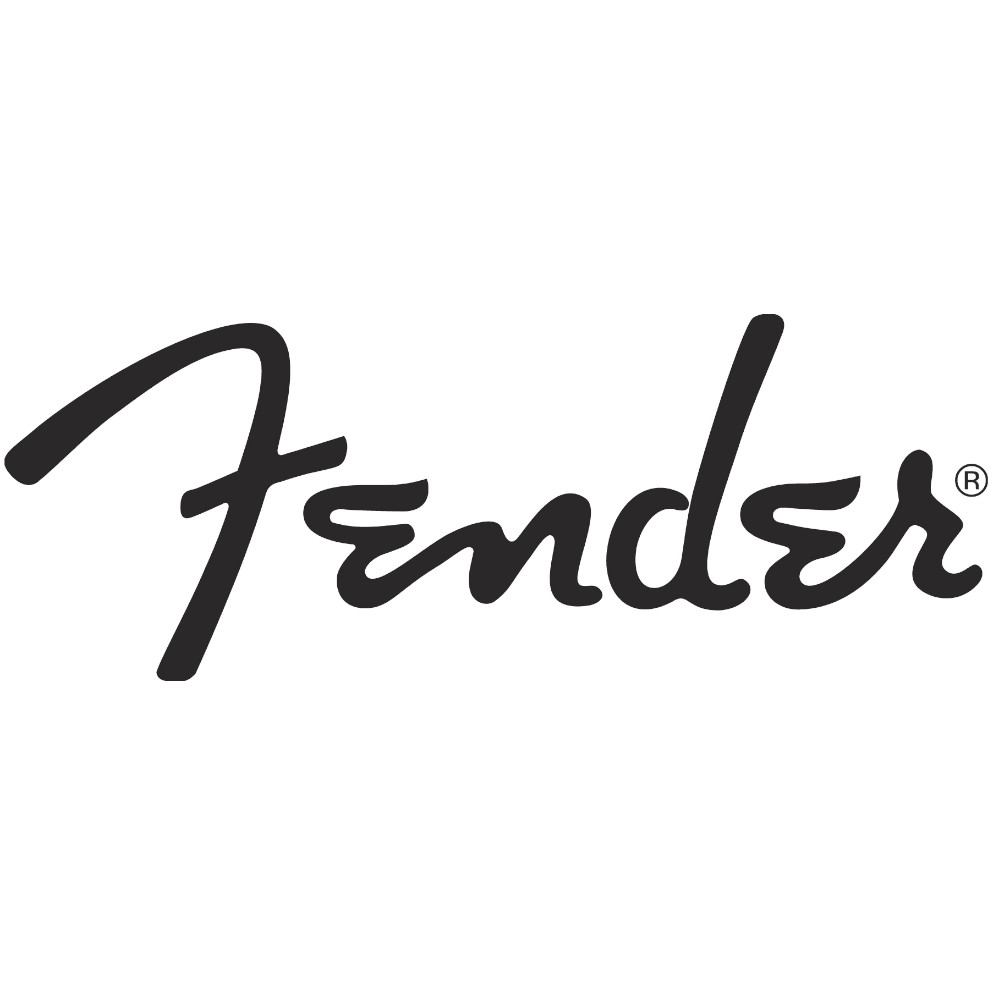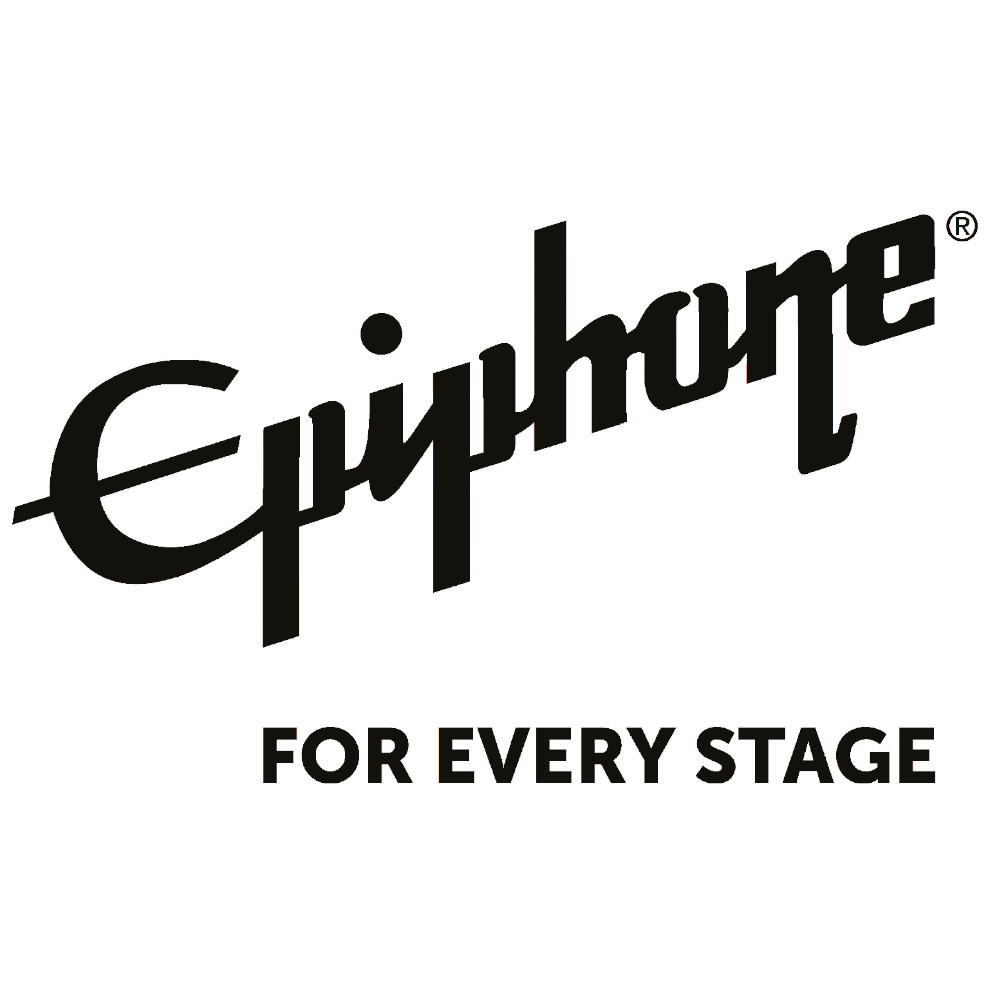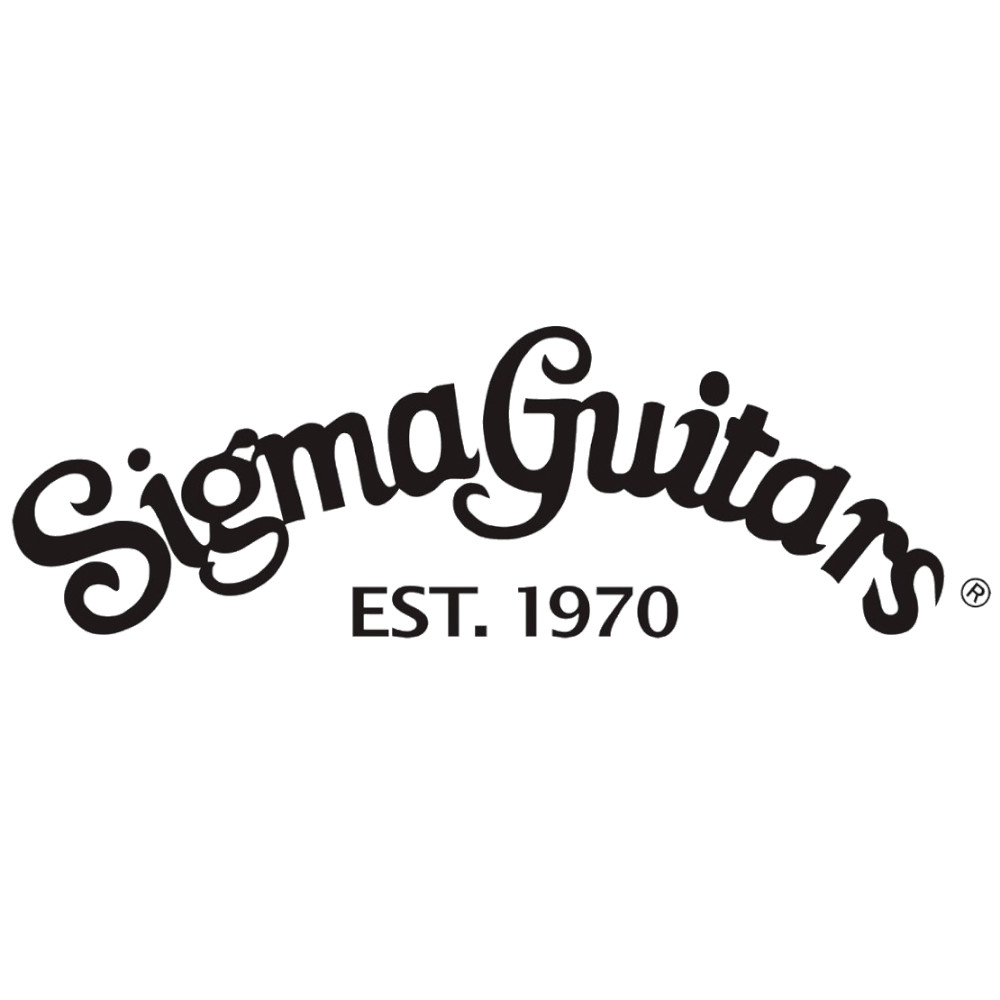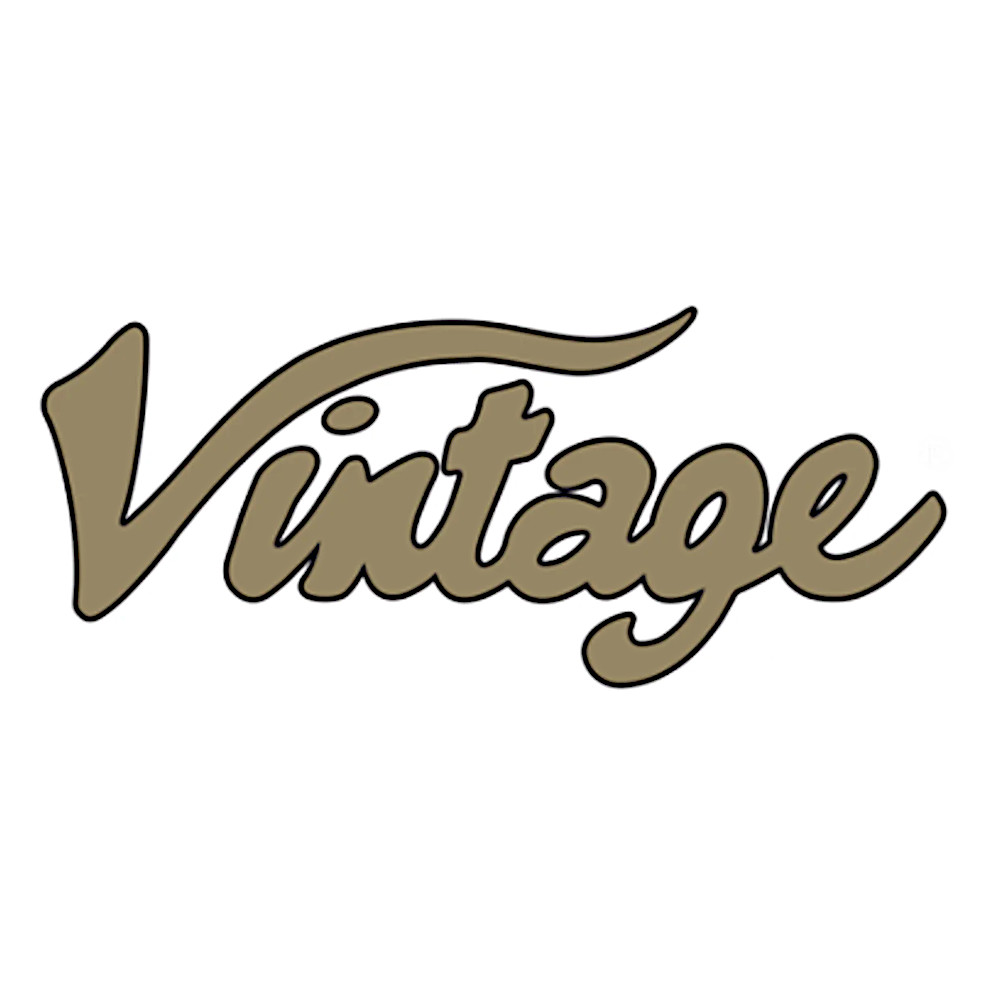 Quality Guitars from Classic Brands

A quick note of caution.
There's a chance you've spotted really cheap guitars in catalogues somewhere. Don't be tempted. Not only do these pseudo-instruments sound terrible, the poor construction actually make them much harder to play. Don't make your life harder or be tempted by false economy, get something you can truly learn to play on, for some time to come.
Without further ado, here are some of our favourite acoustic guitars that would give you a good start into unadulterated strummery.
The Guitars
Stagg C410M Linden 1/2 Size Classical Guitar, Natural
- Perfect for beginners, this 1/2 size classical guitar is ideal for children or those with smaller hands. With a timeless natural finish, this great quality classical guitar is a popular choice for education services and students thanks to its affordable price and great quality features. To achieve a nice, resonant tone the body of the instrument is crafted entirely from Linden wood and finished with an artificial rosewood fingerboard that provides excellent playability. The natural finish gives it a classic look.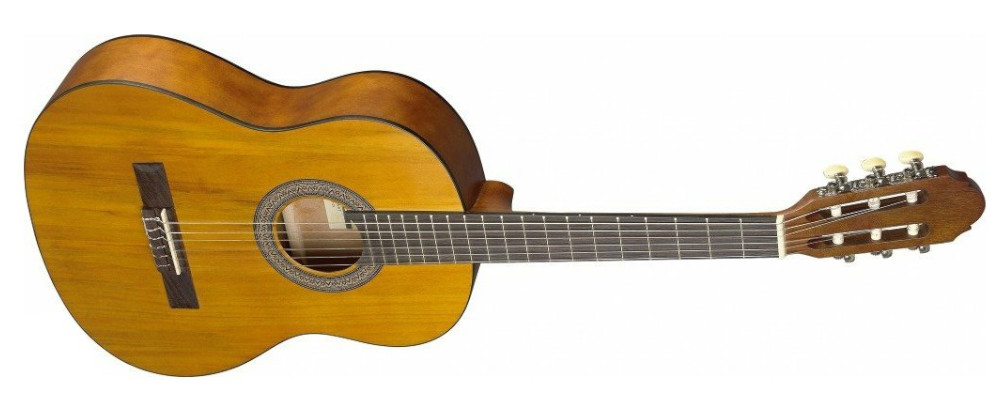 Stagg C410M
Jose Ferrer Estudiante 4/4 Classical Guitar, with Gig Bag
- An affordable option for those looking to learn classical guitar, this 4/4 size guitar comes with a gig bag for easy transport. Designed for students by guitar teachers, the Jose Ferrer 5209 series offer the beginner everything they could need to start their musical journey - a good quality laminate body guitar with figured finishing. Technical wood fingerboard / bridge and nickel fretting.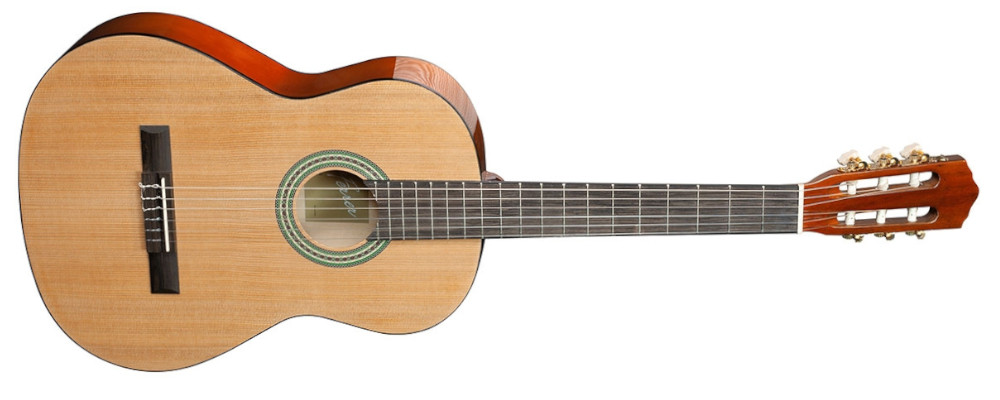 Estudiante by Jose Ferrer. Ideal for Classical and Flamenco lovers
Stagg C430M Linden 3/4 Size Classical Guitar - Natural
- A 3/4 size classical guitar that is great for beginners or those who prefer a smaller guitar. The guitar is fitted with nylon strings that are gentle on the fingers, perfect if this is your first instrument and the nickel machine heads help to make tuning easy and lasting. The Stagg C430 Guitar is an excellent choice for students aged 7-11+. The natural finish gives it a classic look.
Stagg C440M Linden 4/4 Size Classical Guitar - Natural
- The affordable full-size classical guitar option, this guitar has a natural finish and Linden wood construction for a classic look and sound. Fitted with Nylon strings and sporting a basswood body, this guitar is an excellent place to start your guitar journey. It is also available as the
C440M Pack
, which includes a tuner and a handy travel bag.
Stagg SA20D1/2 - 1/2 Size Dreadnought Acoustic Guitar - Natural
- A 1/2 size dreadnought acoustic guitar that is perfect for children or those with smaller hands. This guitar is a responsive and extremely playable instrument with a lovely mellow, balanced acoustic tone. The first steel string guitar on our list, this one's ideal for budding guitar heroes.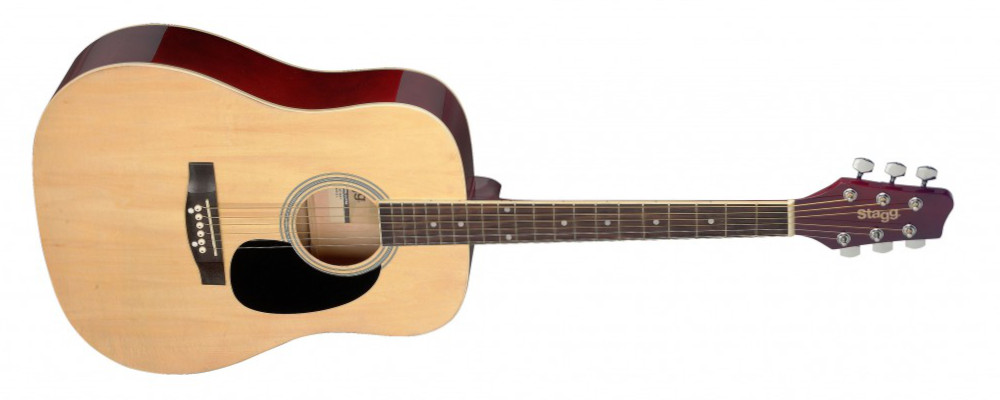 Stagg SA20D1/2 - Perfect for beginners
Vintage Statesboro' 'Parlour' Acoustic Guitar ~ Whisky Sour
- There's an aura of 1930's blues about the Vintage Statesboro' Whisky Sour Series of acoustic and electro-acoustic guitars, designed by English guitarist and blues historian Paul Brett. These cool acoustic and electro-acoustic guitars, not only have that authentic 'feel it in your bones' innate blues emotion, there's also a modern approach within playability and sound that amateur and professional players will appreciate. Available in dreadnought, concert and parlour body sizes, all models share that classic 'bluesman on a budget' theme, looking authentically cool in a satin matt, Whisky Sour finish highlighting the natural grain pattern of the all-mahogany construction and subtle soundhole rosette.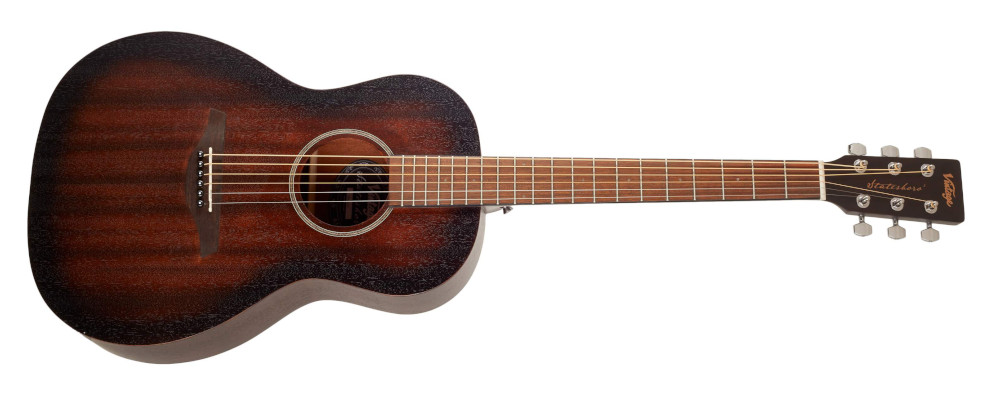 Tasty Vintage appointments and a classic look from the Statesboro
Epiphone Songmaker DR-100 (Square Shoulder) - Natural
- A budget-friendly option for those looking for a square-shoulder acoustic guitar. The Songmaker DR-100 has long been Epiphone's best selling acoustic guitar and has the look, sound, and build quality that first time players and professionals expect when choosing an Epiphone. Featuring a select spruce top, premium tuners, and a mahogany body. Epiphone stands behind every guitar they make with a Limited Lifetime Warranty and Gibson Brands Customer Service.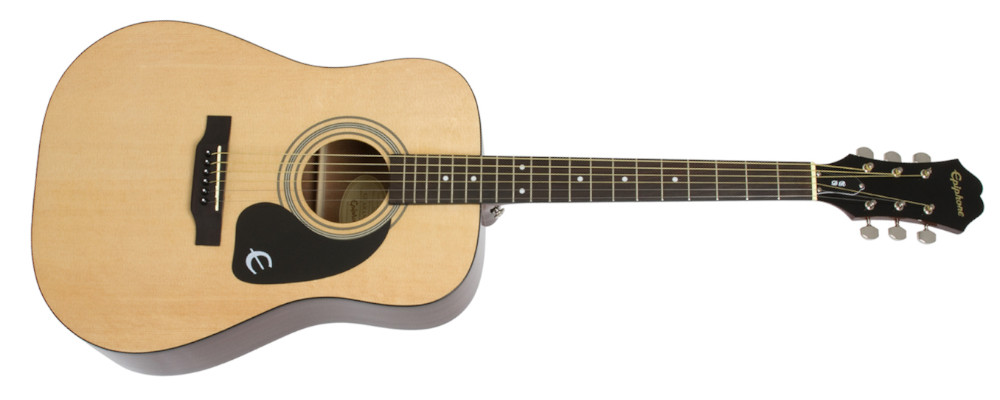 Gretsch G9500 Jim Dandy Flat Top - 2 Tone Sunburst
- Crackerjack quality at a sober price! Faithfull to the Gretsch "Rex" parlor guitars of the 1930s, '40s and '50s, the all-new G9500 Jim Dandy Flat Top parlor-style model embodies everything that was great about everyone's first guitar. Everything and then some, that is, because the G9500 is crafted with select guitar woods and is fully lined and braced for warm and pleasing tone, with a 24" scale for endless hours of playing comfort.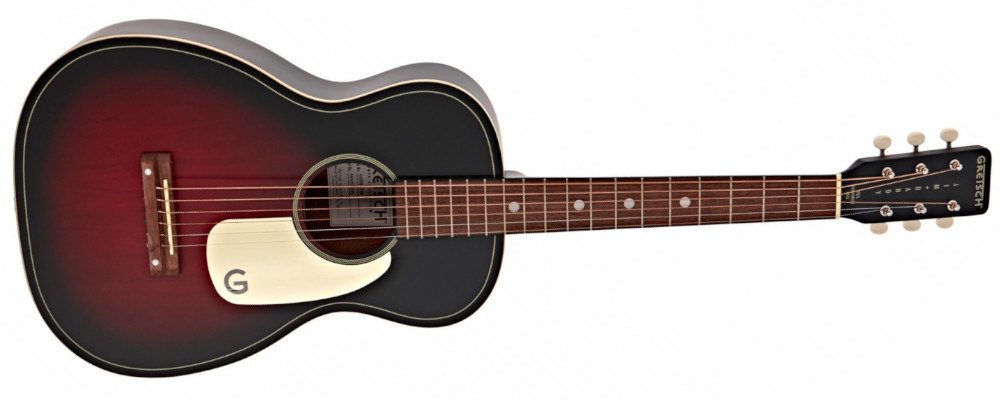 Fender CD-60S Dreadnought Acoustic - Natural
- A classic dreadnought acoustic guitar with a natural finish. The CD-60S is one of our most popular models and is ideal for players looking for a high-quality affordable dreadnought with great tone and excellent playability. With its quality solid spruce top, "Easy-To-Play" neck with rolled fingerboard and mahogany back and sides, the CD60-S is perfect for the couch, the campfire or the coffeehouse—anywhere you want classic Fender playability and sound.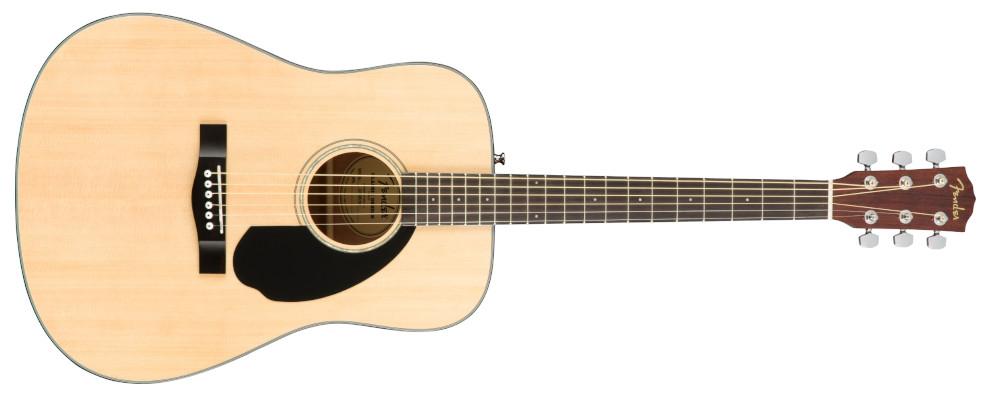 You can never go wrong with a Fender guitar.
Sigma DM-ST Acoustic Guitar - Natural
- The Sigma DM-ST Acoustic Guitar is a high quality 6-string dreadnought acoustic guitar that utilises a fantastic sounding mahogany body with solid sitka spruce top to provide a warm and resonant tonality whilst the bone nut and saddle, 20 fret rosewood fingerboard and rosewood bridge deliver a durable and smooth playability perfect for anything from simple chord patterns to even the most difficult fingerpicking patterns. Also incorporating a natural finish the Sigma DM-ST is an attractive, great sounding and affordable dreadnought acoustic guitar.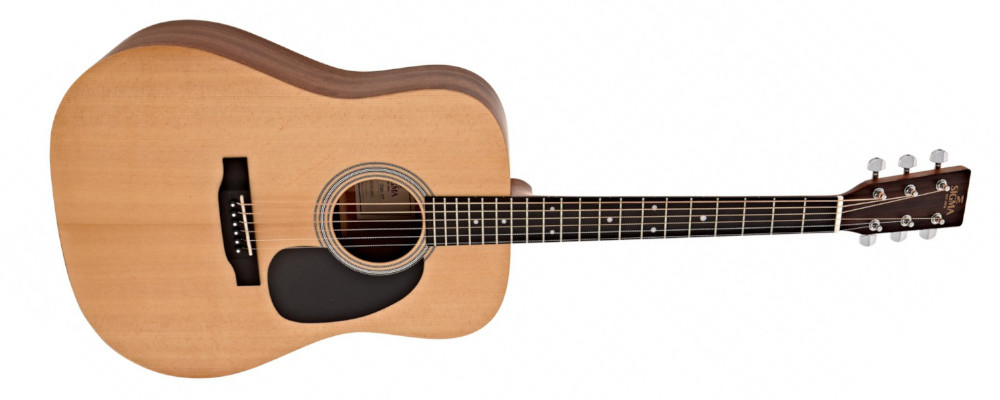 High quality woods make for a beautiful sounding Dreadnought
Here are some criteria to consider when choosing an acoustic guitar from the above top 10.
Budget: Determine how much you are willing to spend on a guitar. It might be al ittle tough at the beginning but, the more you spend, the more longevity you will get from your instrument.
Size and Body Shape: Acoustic guitars come in different sizes and shapes. The size and shape of the guitar affect its sound and playability. Consider your body size and playing style to find the best fit for you.
Tonewood: Different types of wood produce different tones. Common tonewoods used for acoustic guitars include spruce, cedar, mahogany, and rosewood. Research the tonewood used in the guitar to find the sound you want.
Playability: The action (height of the strings above the fretboard) affects the ease of playing. A guitar with a low action is easier to play than one with a high action. Why not come in to the shop and test the playability of the guitar before purchasing.
Brand Reputation: Brands known for quality are likely to produce better guitars than lesser-known brands. Consider the reputation of the brand before making a purchase.
Style and Sound: Consider the style of music you want to play and the sound you want to produce. Some guitars are better suited for specific styles of music or produce different sounds.
Additional Features: Some guitars come with additional features such as built-in electronics or cutaways. These features can affect the price and versatility of the guitar.
Keep these criteria in mind when choosing an acoustic guitar to ensure that you find the best fit for your needs and preferences.
Whether you're just starting out or looking to upgrade your current guitar, Musicmaker has something for everyone.
Shop our full selection of acoustic guitars online at our
acoustic guitar section
and take advantage of our free shipping on orders over €10 anywhere in Ireland.