17 Mar

Posted By
Fender
,
Gretsch
,
Epiphone
,
Vintage
,
Silvertone
,
Telecaster
,
Stratocaster
,
SG
,
Melody Maker
,
Les Paul
,
Hollowbody
,
Streamliner
,
Reissue
Top 10 electric Guitars for Aspiring Musicians
Buy your first electric guitar at Musicmaker
So the time has arrived, you need your very first guitar. Or perhaps you're thinking to buy a guitar for someone you care about. Or perhaps again, you need a second guitar, something inexpensive but functional, something fun to play. In this third case (actually, in all these cases) I would highly recommend calling in to our shop if you can and getting advice directly from our wonderful staff. They know things, and they are very happy to help out.
But maybe you would like to do some research first, and that's what we are here to explore.
A quick note, and I mentioned this with regard to cheap acoustic guitars. There's a difference between cheap and inexpensive and the guitars you see for 50/75 euro are very much, a false economy. They will make learning more difficult as they sound awful and, due to the shoddy construction, are much harder to play. So, give yourself the best chance possible and get something that will kickstart your musical adventures in style.
Right, let's look at the guitars. We have a great range of glorious instruments from some of the biggest and best brands, so lets do a greatest hits and find what suits you best with regards style and sound.
The Guitars.
Epiphone Les Paul Melody Maker - Vintage Sunburst - The Les Paul Melody Maker is a highly-affordable single coil Les Paul giving you fantastic, bright tones. A true icon, made affordable. Because style matters, and so does your dedication to rock 'n' roll history. Whether you're a complete beginner, or simply on a budget, the Epiphone Les Paul Melody Maker E1 is a fantastic choice for any player seeking legendary style with a great playing feel, and tone to match. Plus, the Les Paul SL boasts a beautifully lightweight feel, so you'll never be weighed down throughout long practice sessions.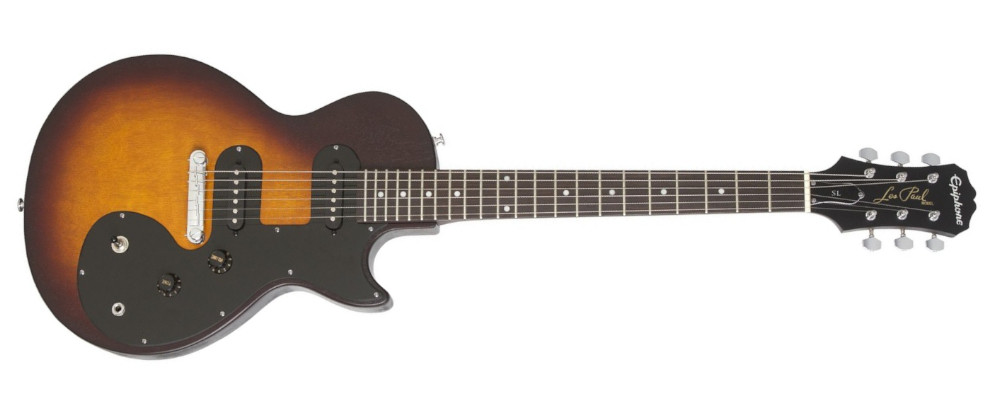 Epiphone Les Paul Special VE - Heritage Cherry Sunburst - Vintage sound. Vintage look. Vintage feel. That's exactly what you get with the Epiphone Les Paul Special VE, Heritage Cherry Sunburst. And it's all thanks to Epiphone's careful construction of an all-time rock 'n' roll classic - the Les Paul. Loaded with a pair of Epiphone open-coil humbuckers, you can produce a tone of pure warmth and clarity in every performance. Topped off with an eye-catching vintage-worn heritage cherry sunburst finish, the Epiphone Les Paul perfectly captures all the details that made this model so iconic.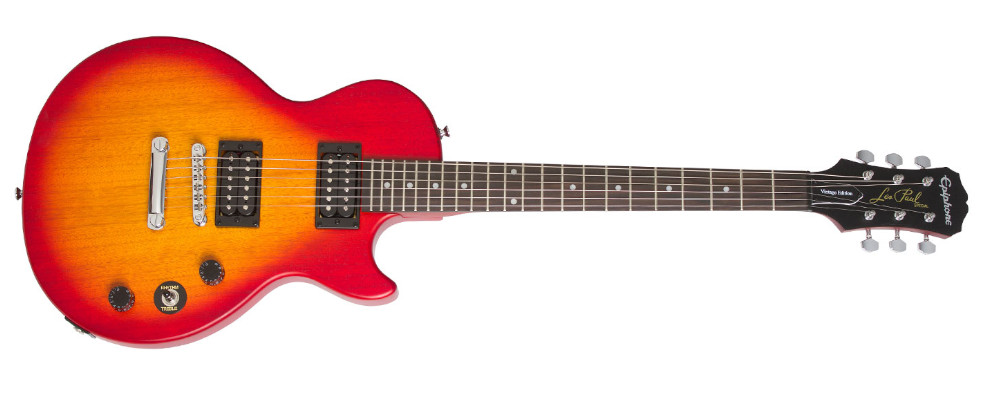 Fender Squier Affinity Series Telecaster - 3-Color Sunburst - If you know Fender, odds are, you know the Telecaster. From its rich history starting out named the Broadcaster to its tone that has been played for decades by legends, it's simply an icon. And you immediately get this impression when looking at the Squier Affinity Telecaster. The gorgeous 3-Colour Sunburst finish beautifully complements the chrome hardware and white pickguard, making you look both stylish and professional. This guitar delivers legendary design and quintessential tone for today's aspiring guitar hero.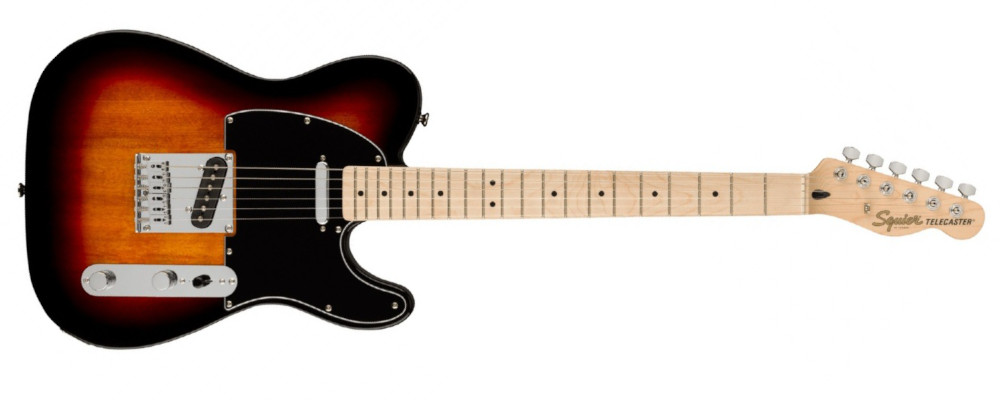 Fender Squier Affinity Series Jazzmaster - Lake Placid Blue - Another superb gateway into the time-honoured Fender family, the Squier Affinity Series Jazzmaster delivers legendary design and quintessential tone for today's aspiring guitar legends. Squier's Affinity Series showcases the unparalleled quality of the original Fenders, but does so with affordable prices, making them accessible to everyone. Showcased in true Jazzmaster style, the sleek, attractive body of this guitar is decorated with sturdy chrome hardware for long-lasting excellence.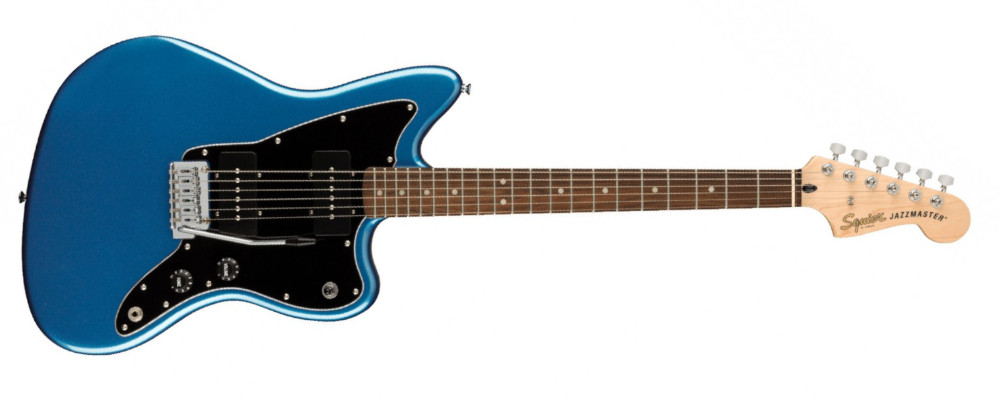 Squier Paranormal Super-Sonic - Shell Pink - The Squier Paranormal Super-Sonic is an enchanting instrument. Crafted to exceptionally high standards, offering effortless playability and beholding powerful crushing tones, this guitar is a perfect companion for any guitarist. Two Atomic humbuckers at the neck and bridge deliver an explosive tone, propelling your tone to new heights. Topped off with a reverse body design and stunning finish, you will catch some eyes with this guitar.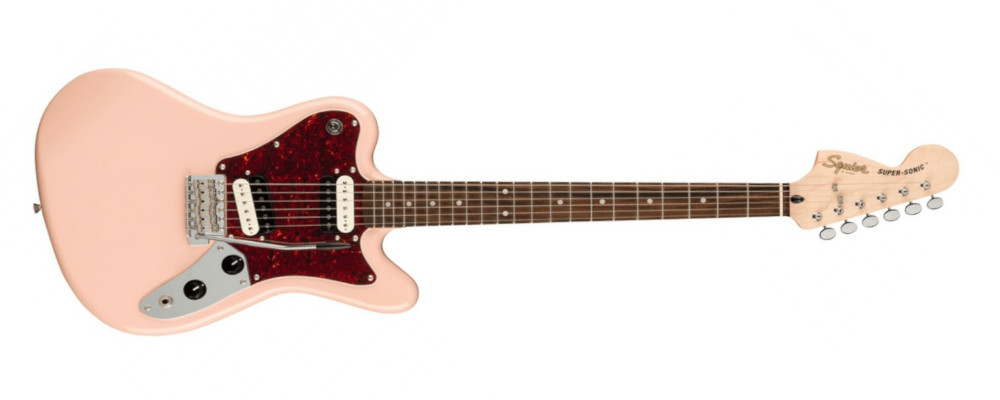 Epiphone SG Special P90- Sparkling Burgundy - The Epiphone SG Special P-90 takes the historic 61' design, and reinvents it for the next generation of guitarists. This is the ultimate homage to the golden age of SG. Join the biggest names in the business, and prepare to be inducted into the Rock 'N' Roll hall of fame. Rock and metal redefined. The SG Special combines vintage sound with contemporary innovation to give you unlimited versatility and freedom.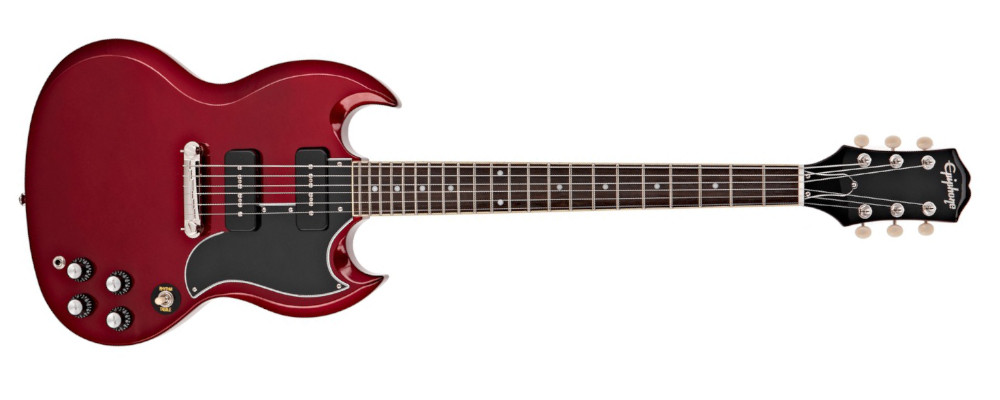 Squier Classic Vibe '70s Stratocaster - Olympic White - A tip of the hat to the large-headstock Strat models produced in the 1970s, the Classic Vibe '70s Stratocaster creates incredible tone courtesy of a trio of Fender-Designed alnico single-coil pickups. Classic seventies tones in a guitar that's purpose-built for the 21st century performer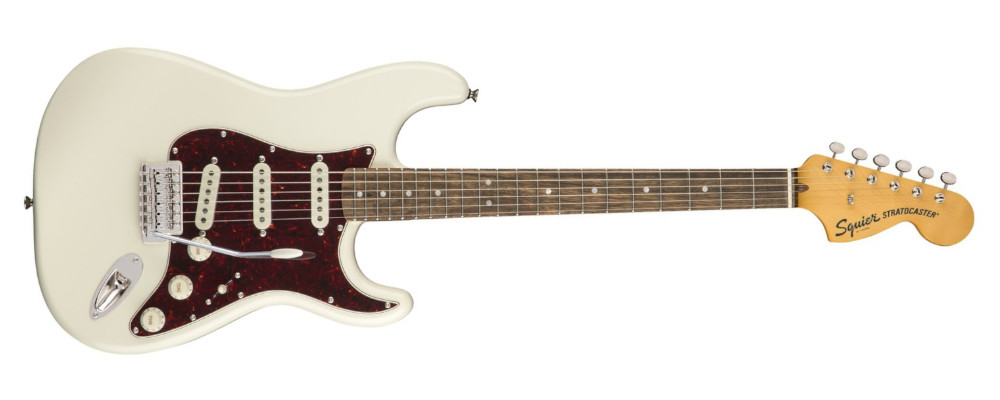 Gretsch G2420 Streamliner Hollow Body with Chromatic II - Aged Brooklyn Burst - How about something completely different? Start your journey with a Hollowbody. Big, bold and righteous, the G2420 Streamliner Hollow Body Single-Cut with Chromatic II is designed for the modern guitarist who yearns for something beyond the norm. A commanding guitar for powerful players, the G2420's modern sonics, updated electronics and authentically elegant style create the latest iteration of That Great Gretsch Sound!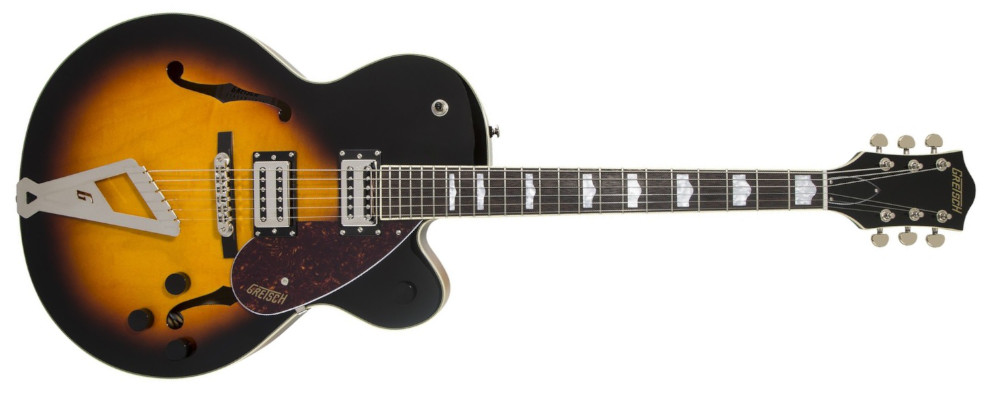 Silvertone 1303 Reissue Electric Guitar - Gloss Black - Start you journey with a reissue of some serious history. Silvertone introduced one of the earliest solid body guitars in the autumn of 1954. That early model evolved into the 1303 in 1958. The Reissue 1303/U2 has all the vibe and twang of the original with some significant upgrades. The thru-body bridge provides great attack and hefty tone while giving you all the modern adjustment options you want. Proper classic with an updated feel.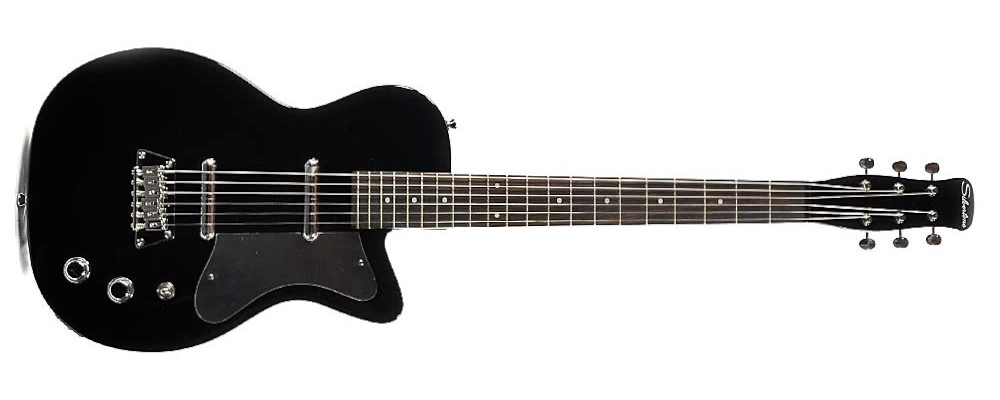 Vintage V6 ICON Electric Guitar ~ Distressed Firenza Red - Good things come to those who wait – but who has the time for that? The Vintage ICON Series replicates the beautiful, worn-in look and feel of an instrument that has paid its dues, without investing the lifetime's worth of woodshedding, rehearsing, performing and travel. This is a guitar that already looks like your lifetime companion; the best part is your journey is just beginning. Play on.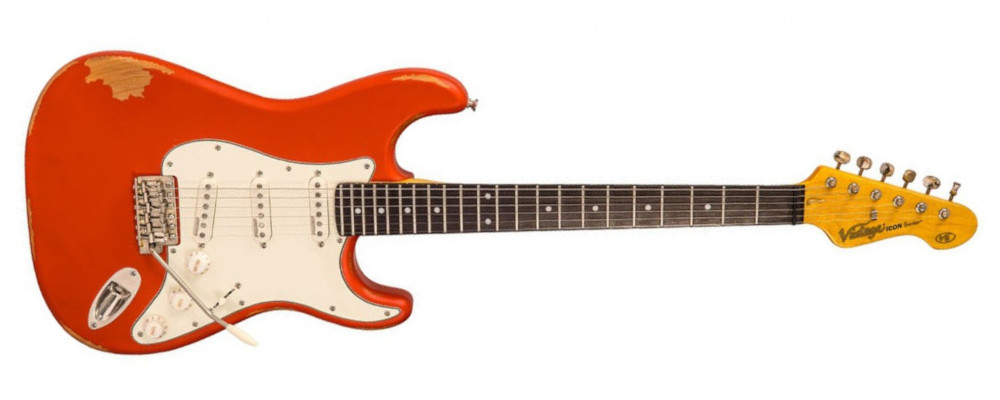 When choosing a guitar from the above list, there are a few criteria to consider:
Budget: Determine how much you are willing to spend on a guitar. The guitars on this list range in price from €195.00 to €469, so they are all relatively affordable and there should be options for every budget.
Style: Consider the style of music you want to play and choose a guitar that suits that style. For example, the Epiphone Les Paul Melody Maker is a good choice for classic rock, while the Fender Squier Classic Vibe '70s Stratocaster is a good option for funk or blues.
Playability: The action (height of the strings above the fretboard) affects the ease of playing. A guitar with a low action is easier to play than one with a high action. Test the playability of the guitar before purchasing.
Brand Reputation: Brands known for quality are likely to produce better guitars than lesser-known brands. Consider the reputation of the brand before making a purchase.
Build Quality: Look for a guitar with a solid build quality, as this will affect the durability and overall sound of the instrument. Brands like Gibson and Fender are known for their high-quality construction.
Personal Preferences: Lastly, consider your personal preferences when choosing a guitar. This could include factors like the guitar's design, finish, or weight. Ultimately, you want to choose a guitar that you feel comfortable playing and that inspires you to make music.
In addition to offering a wide selection of guitars from top brands, choosing to buy your guitar at Musicmaker comes with a host of benefits. As the one of the oldest guitar shops in Dublin, we have been providing musicians with quality instruments and services since 1981. Here are just a few excellent reasons to shop at Musicmaker:
Our staff consists of experienced musicians who are passionate about helping others find the perfect instrument. We are always happy to offer advice, answer questions, and provide guidance to our customers, especially if you are new to the experience.
We offer a range of services to ensure that your guitar is well-maintained and always sounds its best. From repairs and setups to customizations and restorations, our team can help you get the most out of your guitar.
With a huge stock of guitars and accessories, we are a one-stop-shop for all your musical needs. Whether you're a beginner or a seasoned pro, we have everything you need to make music.
Our central location in Dublin makes us easily accessible to musicians from all over the city and beyond, so drop by and test these awesome guitars for yourself.
We'll see you soon.