03 Aug

Posted By
Feadog
,
Tin
,
Whistle
,
Nickel
,
Brass
,
Penny
,
Nuvo
,
Recorder
,
Baroque
,
Classroom
,
pBone
,
Trumpet
,
Trombone
,
Stentor
,
Violin
,
Viola
,
Bow
,
Case
Delve into Musical Heritage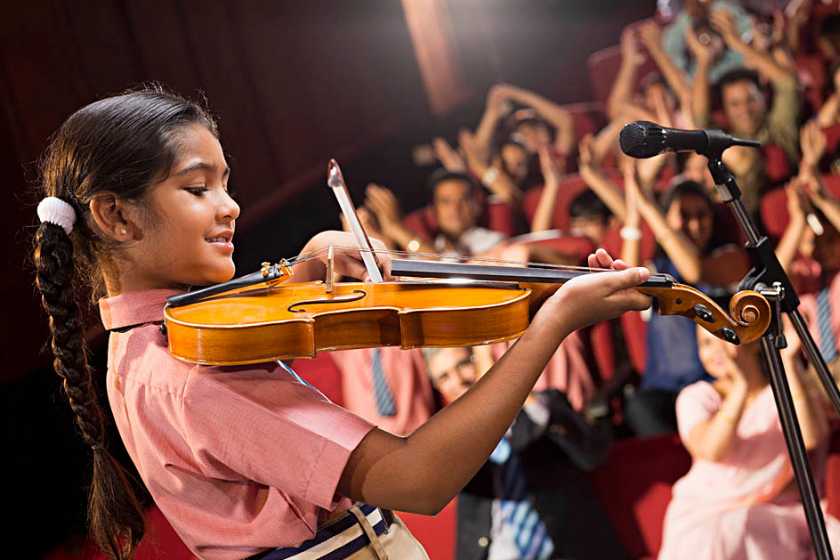 We have seen what the modern world has to offer is with its electric guitars and digital pianos.
But let's take a look at from where these things were borne. At the classical arts of wind instruments and string instruments. At the world that inspired, and continues to inspire so many composers and musicians the world over.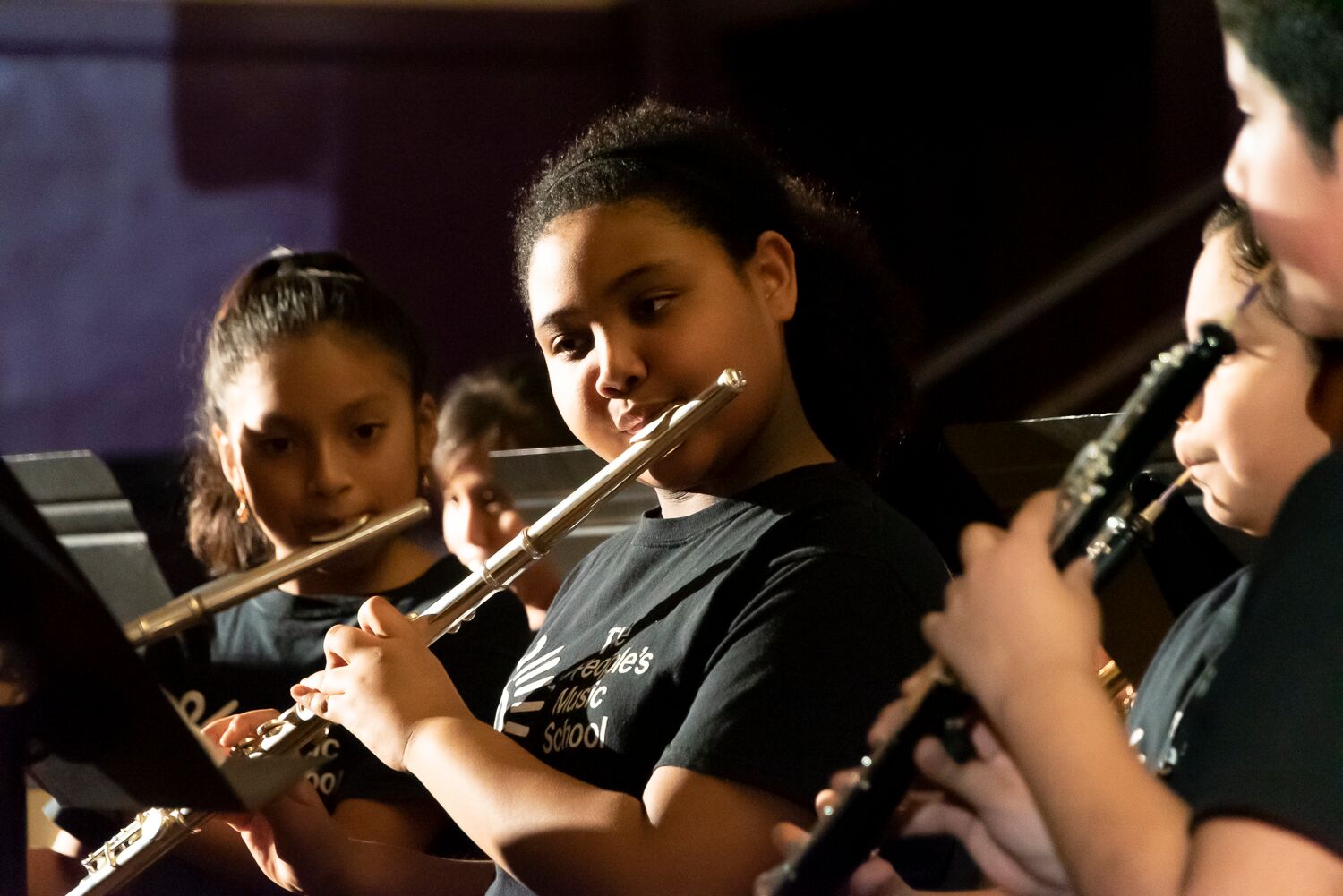 Why do we do this?
Music is a beautiful thing, but it does take some work. Is it really worth it? Very much so and here's why....
Develops Discipline: Learning a classical instrument requires consistent practice and dedication. Regular practice helps instil
discipline and time management skills in students, which can be valuable in various aspects of life.
Enhances Cognitive Abilities: Studies have shown that learning to play a musical instrument, especially classical ones, can improve cognitive abilities such as memory, problem-solving, and spatial reasoning.
Fosters Creativity: Classical music often encourages improvisation and interpretation, allowing musicians to express their creativity and emotions through their performances.
Builds Confidence: As students progress in their musical journey and achieve milestones, their self-confidence grows. Performing in front of others, whether in recitals or concerts, boosts self-esteem and public speaking skills.
Improves Focus and Concentration: Playing a classical instrument requires concentration and focus, training the mind to stay attentive and mindful during practice and performances.
Teaches Patience and Perseverance: Learning a complex classical piece can be challenging and time-consuming. It teaches students the value of patience, perseverance, and the rewards of hard work.
Cultivates Emotional Expression: Classical music often evokes a wide range of emotions. Learning to convey these emotions through music allows students to develop emotional intelligence and empathy.
Enhances Physical Coordination: Playing a musical instrument requires precise movements and hand-eye coordination, which can improve motor skills.
Connects with Cultural Heritage: Classical music has a rich history and cultural significance. Learning a classical instrument enables students to connect with their heritage and appreciate the beauty of music from different eras.
Provides Lifelong Enjoyment: Playing a classical instrument offers a lifelong hobby and a source of joy. It allows individuals to continue exploring and appreciating music throughout their lives.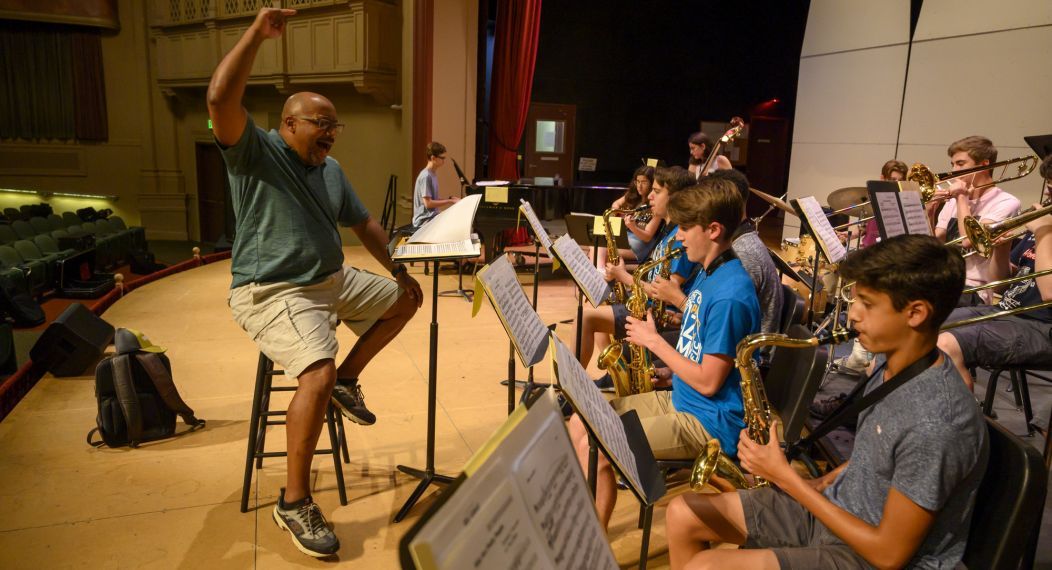 To the Instruments Themselves
Wind
Here's a brief selection of some of the many wind instruments we have in stock. If there are others you are interested in, check out our full Wind section or get in touch with the staff via the Intercom button below....
The Irish tin whistle, also known as the penny whistle or simply the whistle, is a charming and iconic wind instrument deeply rooted in Irish musical tradition. It is a small, simple, and affordable instrument, usually made of brass or nickel-plated brass. The tin whistle typically consists of a narrow metal tube with six finger holes and a mouthpiece at one end. Despite its straightforward design, the tin whistle has a surprisingly rich and sweet tone that can evoke a range of emotions, from lively and joyful jigs to hauntingly beautiful airs. Its popularity lies in its accessibility, making it a perfect instrument for beginners and seasoned musicians alike. Whether played solo or in traditional Irish music sessions, the Irish tin whistle carries the spirit of Ireland's musical heritage and continues to captivate audiences worldwide with its enchanting melodies.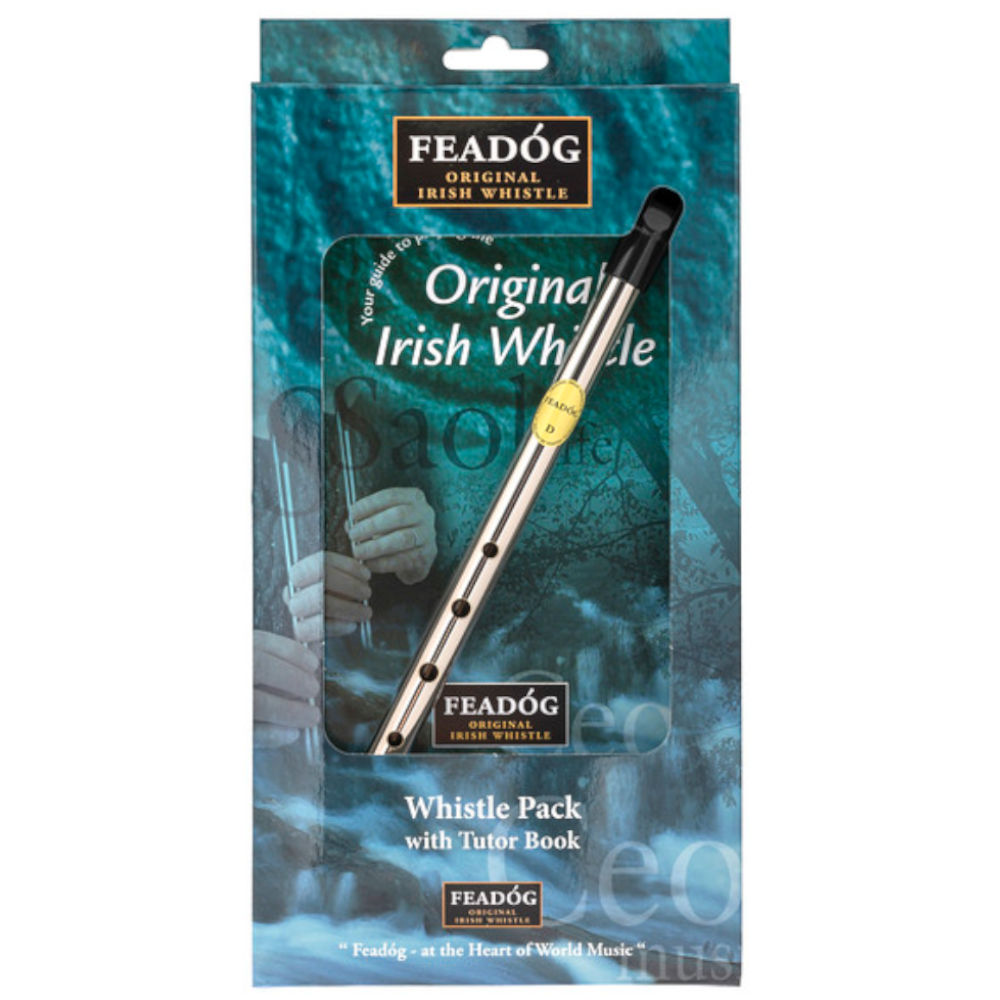 Feadog Nickel D Whistle & Book Pack: A wonderful starter pack that contains a Feadóg Nickel tin whistle is the key of D, and a comprehensive Tutor Book to get you started. Using a step by step approach with music notation and fingering, it includes a selection of favourite songs and dance airs.
Nuvo Recorder +, Black/Green, Baroque: The Recorder+ is a remarkable instrument equipped with a unique silicone key system, setting it apart from traditional recorders. This innovative design allows for larger tone holes, reducing the occurrence of squeaks and producing a warm, mellow tone. The key system also facilitates faster progress for beginners, empowering them with confidence on their musical journey. Using standard recorder fingering, the Recorder+ seamlessly integrates with any recorder method book or media. It boasts a range of 2 octaves and offers full chromatic capabilities in either Baroque or German fingering. One of the standout features of the Recorder+ is its 100% waterproof construction, allowing for easy cleaning in hot, soapy water. Additionally, it comes with a hard plastic case and a handy fingering chart. The instrument is designed for optimal comfort, featuring an adjustable thumb rest and removable rings at the bottom, which can be utilized as a rewards system to encourage students in their progress. For added appeal, the Recorder+ comes in 7 fun color options, including black or white with blue, green, or pink accents. With its user-friendly design and playful aesthetics, the Recorder+ offers an engaging and enjoyable learning experience, making it an excellent choice for aspiring musicians of all ages.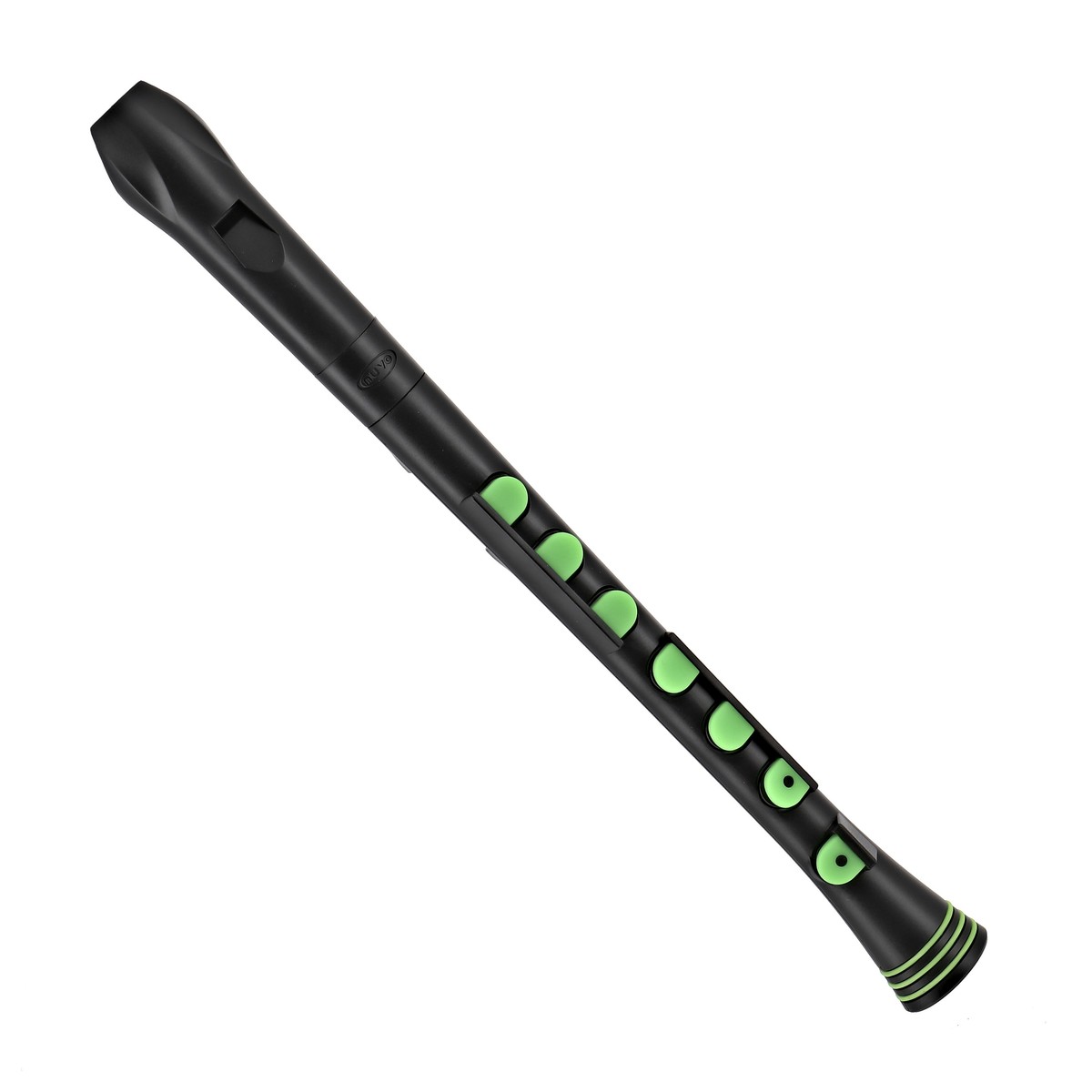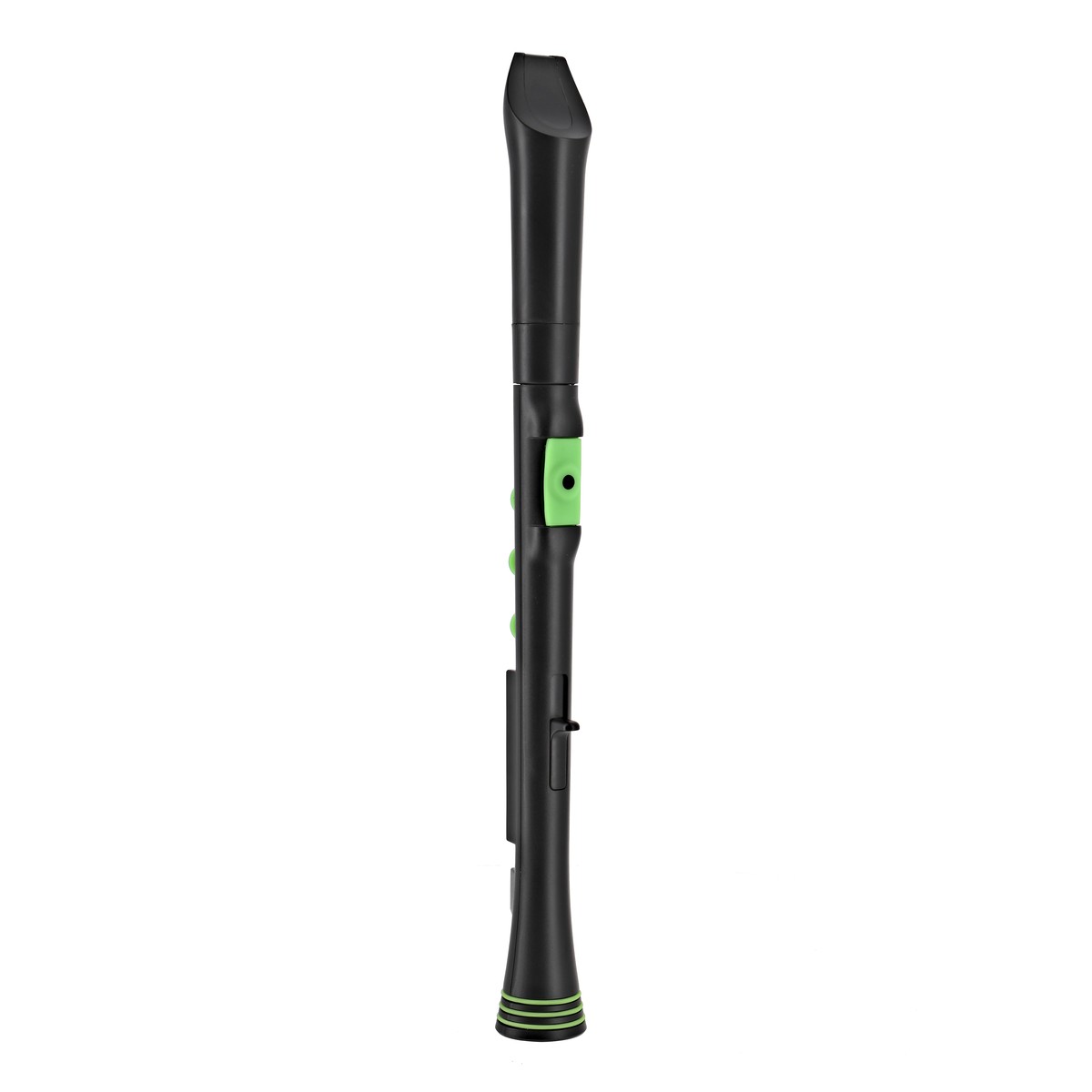 NUVO Recorder+
pBone Mini Trombone in Red with Bag and Mouthpiece: Introducing the pBone Mini, a smaller and lighter trombone designed with young beginners in mind. This mini trombone is ideal for little hands, offering an easy-to-play experience for aspiring musicians. Weighing less than half the weight of traditional brass trombones, the pBone Mini is exceptionally light, aiding your child's ability to develop good technique and posture. The reduced weight also ensures their arms won't tire quickly, allowing for longer and more enjoyable practice sessions, leading to faster progress.
Not only is the pBone Mini a great instrument for young learners, but it also provides excellent value for money. Costing around a third of the price of beginner brass trombones, it is an affordable option for parents. The package includes everything your child needs to start playing right away, such as a smart fabric carry bag for easy transportation between lessons, school, or band practices. The instrument comes with a unique plastic mouthpiece specially designed to help children play a wide range of notes, as well as access to an array of online learning resources for additional support in their musical journey. Embrace the joy of music with the pBone Mini, the perfect choice for young trombonists embarking on their musical adventure.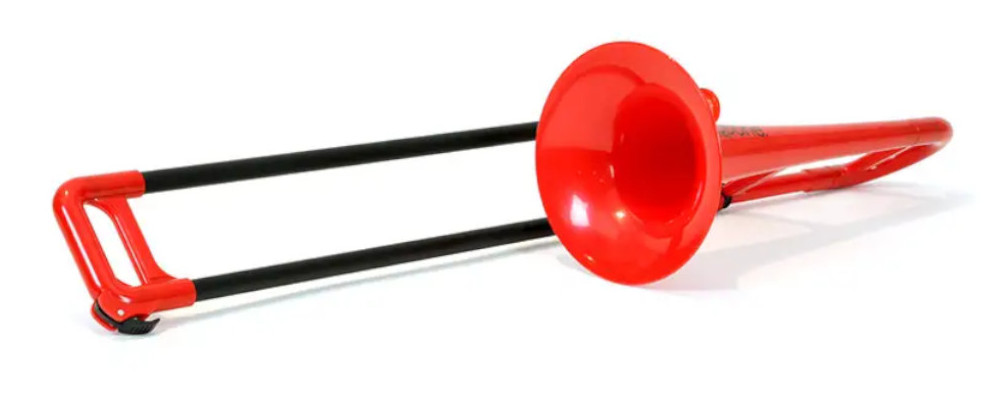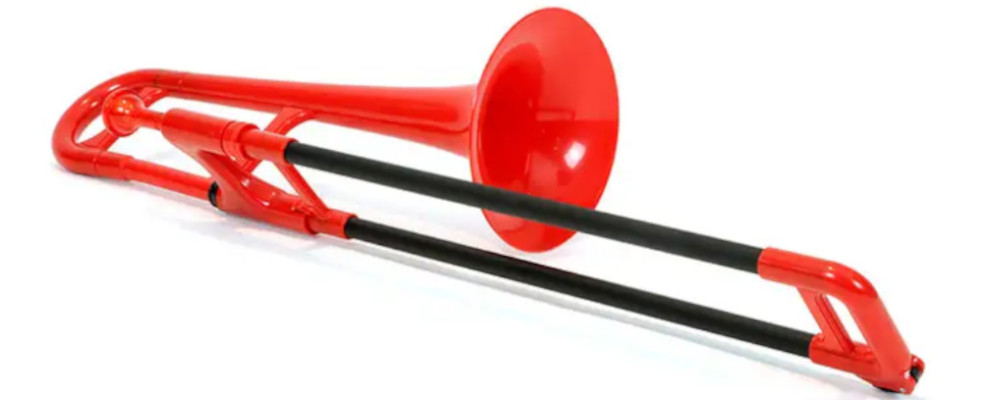 pBone Mini Trombone
Strings
We do our best to provide budding classical musicians with the tools required to play with comfort and confidence. While here I'll focus on the instruments themselves, we also have a wide range of bows, mutes, rosin, shoulder rests and much more in our shop and in our online store. If you're looking for something specific, please get in touch via the Contact page or the Intercom button. We are always here to help.
Stentor Student 1 - 1400E 1/2 Violin Pack: This Stentor 1/2 Size Student Violin offers a good quality starter instrument ideal for up to grade 5. This instrument is perfect for Local Education Authorities and schools that are on a budget. It's made from quality solid tonewoods with Rosewood pegs and fingerboard.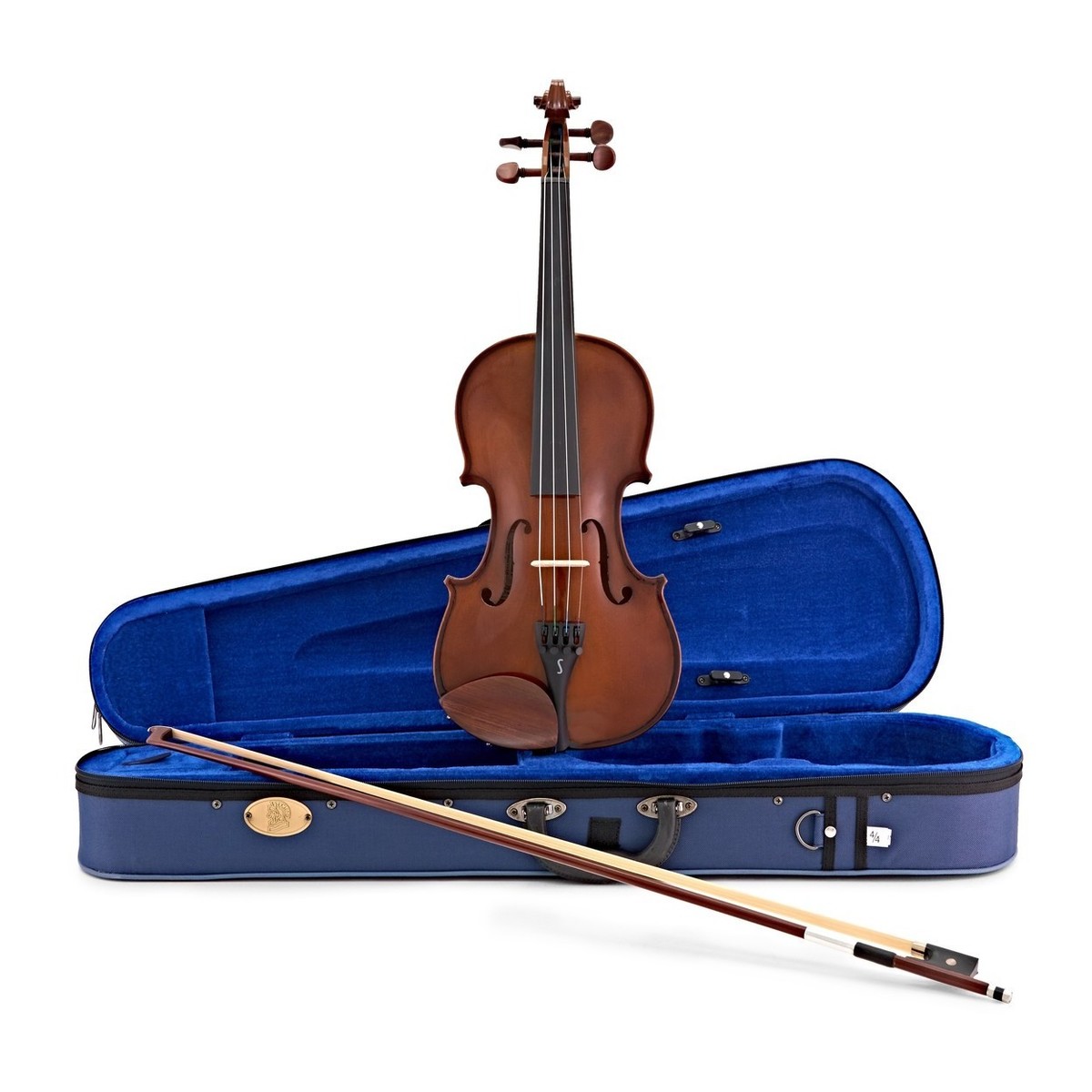 Stentor 1400E
Stentor Conservatoire Violin Outfit 4/4: Introducing the Stentor Conservatoire Violin Outfit 4/4, a premium choice for discerning violinists seeking exceptional craftsmanship and tone. Crafted to the highest standards, this full-size violin is designed for advanced students and aspiring professionals. The instrument features a beautifully hand-carved solid spruce top and flamed maple back, offering rich resonance and a captivating sound. Its traditional design, combined with meticulous attention to detail, results in an instrument that is not only aesthetically stunning but also a joy to play.

The Stentor Conservatoire Violin is outfitted with high-quality fittings, including ebony pegs, fingerboard, and chinrest, providing excellent durability and enhancing the instrument's overall performance. For added convenience, the outfit includes a professional-quality bow with natural horsehair and a deluxe oblong case with plush interior padding, ensuring the utmost protection during transport.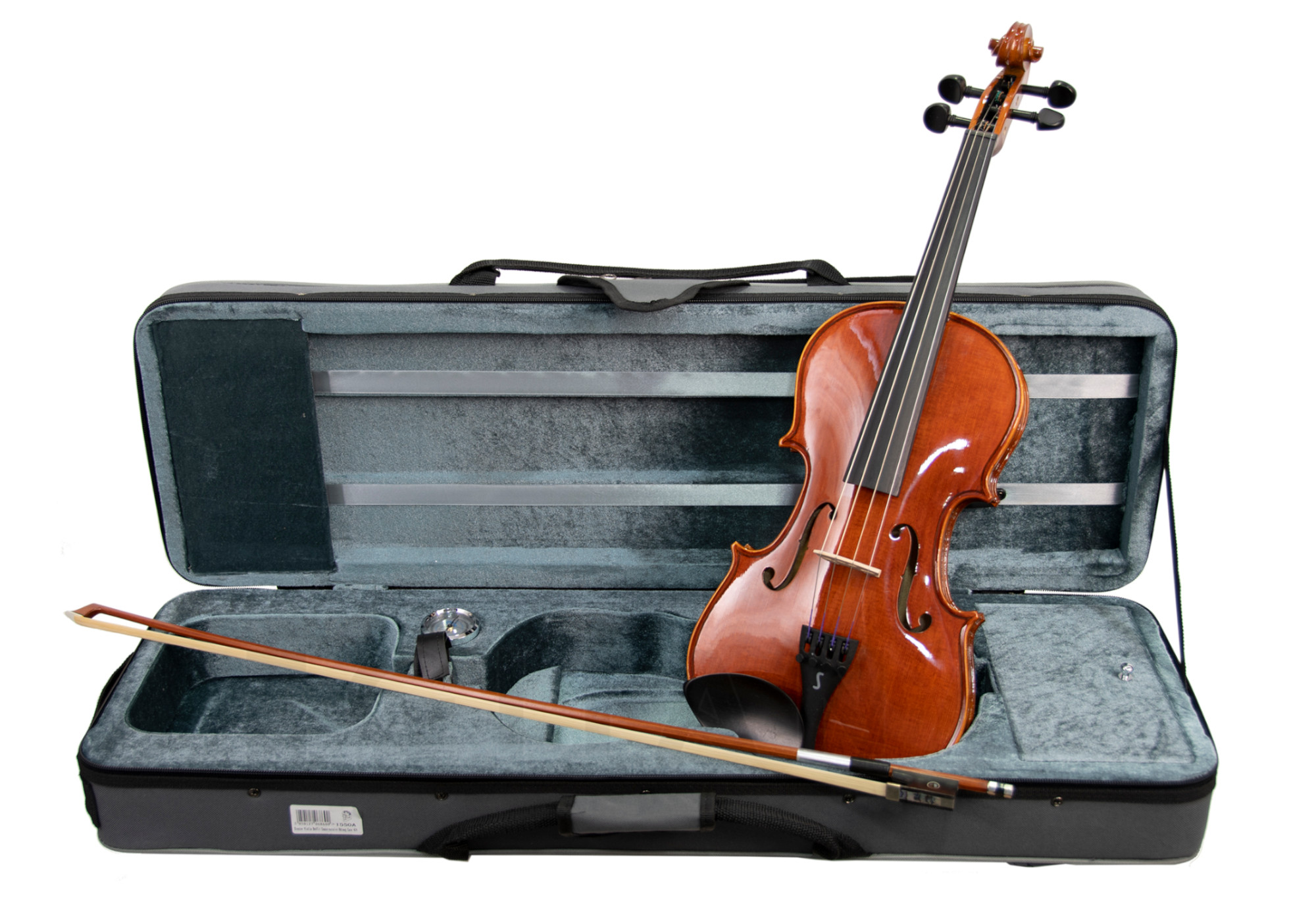 Stentor Conservatoire
Stentor Student 1- 1038L Viola Outfit 12″ : The Stentor 12" Student 1 Viola is a fantastic option for beginner viola players, offering a high-quality starter instrument that allows students to progress up to a grade 5 standard, all at an affordable price. This makes it an ideal choice for schools and Local Education Authorities with budget constraints, seeking a reliable 12-inch viola that comes highly recommended. Crafted from solid tonewoods, the viola features rosewood pegs and fingerboard, ensuring excellent build quality even at a budget-friendly cost.

The instrument's carved solid body and rosewood components contribute to its exceptional sound quality, making it one of the most recommended string instruments available. The craftsmanship of the viola is of a remarkably high standard, a testament to the dedication of Stentor's skilled viola specialists. Unlike many other economy instruments that use composite woods or laminate tops, this viola stands out for its use of solid tonewoods, ensuring a superior and authentic playing experience. With the Stentor 12" Student 1 Viola, aspiring violists can embark on their musical journey with confidence, knowing they have a reliable and high-quality instrument at their disposal.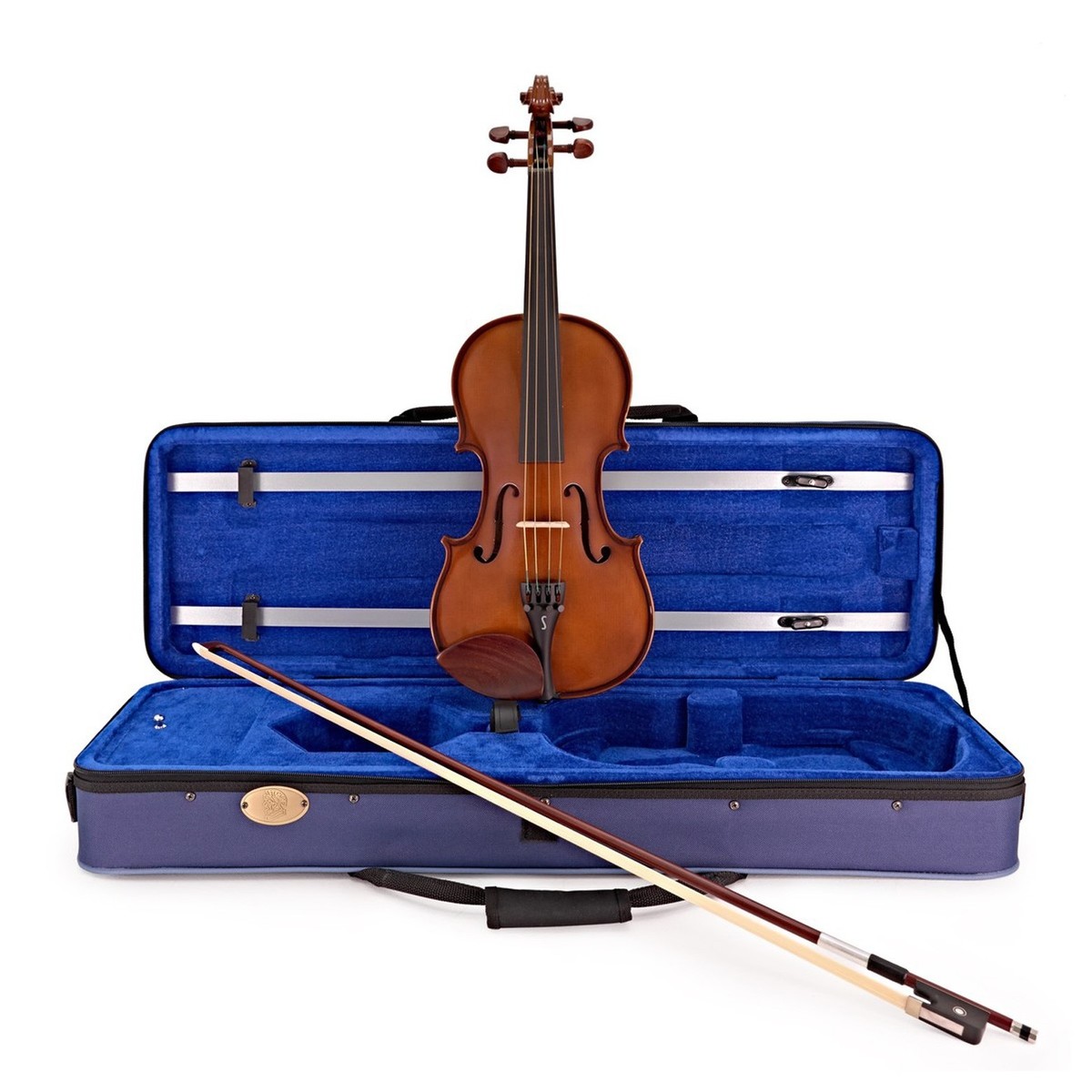 Stentor Viola
That's it for episode two. As ever we have a wealth of instruments not mentioned, as well as cases, reeds, mutes, strings and so much more, so check out our full online store or pop in to Musicmaker to try these instruments out for yourself.
We are waiting for your visit.