04 Aug

Posted By
Stagg
,
Hand
,
Bells
,
Tuned
,
Percussion
,
Boomwhackers
,
Classroom
,
Angel
,
Glockenspiel
,
Practice
,
Pad
,
Roland
,
Alesis
,
V-Drums
,
Mesh
In the Beginning there was Rhythm, and it was GOOD
Pardon me, I may be a little biased on this front, but there we are.
It's truth also, rhythm is the root of music and, after the human voice, the oldest type of instrument.
But it is also a very rich and varied tradition, that encompasses both rhythm and melody ad will enhance and enrich both the life of the musician and whatever group or ensemble with whom you are playing.
A brief overview of the may benefits
Learning a percussion instrument offers a multitude of benefits that can enrich your life in various ways. Here are some compelling reasons why you should consider learning a percussion instrument:
Rhythm and Timing: Percussion instruments are all about rhythm and timing. By learning to play percussion, you develop a strong sense of timing and the ability to keep a steady beat, which is essential in music and many other areas of life.
Coordination: Playing percussion instruments requires using different parts of your body simultaneously, such as hands, feet, and sometimes even your voice. This helps improve coordination and motor skills.
Expressive Outlet: Percussion instruments allow you to express yourself creatively and emotionally. You can create a wide range of sounds and rhythms, making percussion a versatile and expressive musical medium.
Social Interaction: Percussion instruments are often used in ensembles and bands, providing opportunities for social interaction and collaboration with other musicians.
Stress Relief: Playing percussion can be a great way to relieve stress and unwind. The act of drumming can be therapeutic and meditative, providing an outlet for releasing tension and emotions.
Cognitive Benefits: Learning percussion can improve cognitive skills such as memory, concentration, and problem-solving. It also stimulates the brain and enhances mental agility.
Physical Fitness: Playing certain percussion instruments, like drums, can be physically demanding and can provide a workout for your arms, legs, and core muscles.
Cultural Exploration: Percussion instruments are found in various musical traditions around the world. Learning percussion can expose you to different cultures and musical styles, broadening your horizons.
Musical Versatility: Percussion instruments can be found in virtually all genres of music, from classical and jazz to rock, pop, and world music. Learning percussion opens up opportunities to explore a wide range of musical styles.
Fun and Enjoyment: Above all, learning a percussion instrument is fun and enjoyable. The satisfaction of creating rhythmic patterns and beats can be immensely rewarding and fulfilling.
To the Instruments!
Tuned Percussion
The best of both worlds, a marriage of rhythm ad melody, tuned percussion is a tremendously rounded way to explore the musical universe. I have a few examples of more classroom based percussion to follow but if you have any questions feel free to get in touch via the intercom button below. These are just a few brief examples so if you would like to see more check here for our curated list and here for all the percussion we currently have in stock.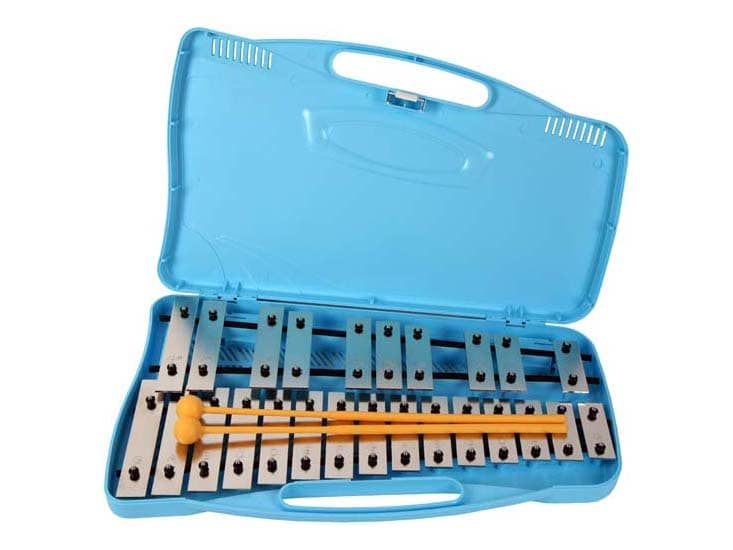 Angel G2-G4 25-Note Glockenspiel: Meet the Angel G2-G4 25-Note Glockenspiel, a harmonious and versatile instrument perfect for musicians of all levels. Meticulously crafted with precision, this glockenspiel offers a delightful playing experience with its resonant and clear sound that will charm any audience. Featuring 25 notes spanning from G2 to G4, this instrument opens up a world of musical possibilities, accommodating various genres and styles. Each note is finely tuned, ensuring accurate pitch and harmonious tones, allowing you to effortlessly create captivating melodies. Built to withstand the test of time, the glockenspiel's robust construction guarantees reliable performance, making it an ideal choice for educational environments and professional showcases alike.
Adding a splash of visual flair, the brightly colored metal keys not only catch the eye but also aid in distinguishing between notes, making it an excellent learning aid for aspiring music students. Whether you're a beginner exploring the world of music or an experienced musician seeking a versatile and melodic companion, the Angel G2-G4 25-Note Glockenspiel is a harmonious choice that will elevate your musical journey to new heights.
Stagg Tick Bell Set - 8 Notes: Introducing the Stagg Table Tick Bells, a vibrant and delightful musical instrument perfect for children and classrooms. This set includes eight table bells, each adorned with bright colours and tuned in diatonic C major. The colour-coded design enhances the learning experience, making it easier for children to play and grasp simple tunes. Designed to be user-friendly and engaging, the Table Tick Bells offer a fun way for young learners to explore the world of music. The colour-coded system not only adds a visual appeal but also assists in associating different notes, making it easier for children to create harmonious melodies. Whether used in group activities, music classes, or at home, these bright and colourful table bells provide a captivating and interactive introduction to the world of music for children of all ages.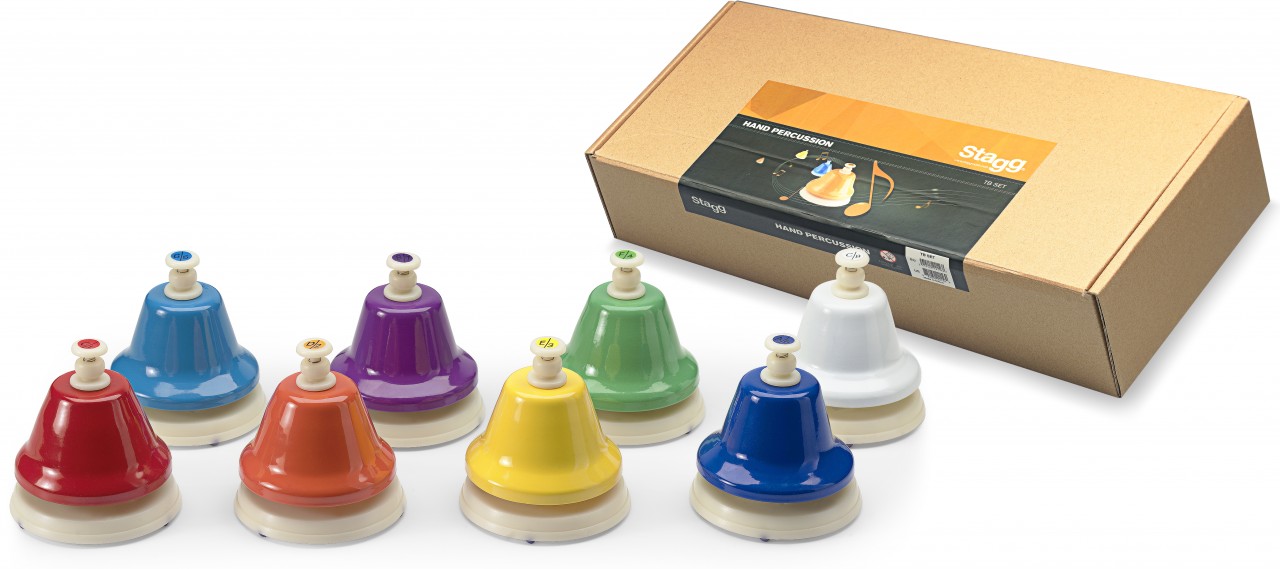 The Stagg Tick Bells
Boomwhackers BWSS Full Spectrum Set: The Boomwhackers Full Spectrum Set opens up the world of music to everyone, making it accessible and enjoyable for all. Widely embraced in music education, music therapy programs, and team building activities, the Boomwhackers range offers the delight of music to people of all backgrounds. These strong, lightweight, and portable tuned percussion tubes produce a warm, mellow tone when struck on hands, arms, legs, or against each other, or a brighter attack when played against harder surfaces. Regardless of age or musical ability, anyone can engage in collaborative music-making with these user-friendly instruments.

An indispensable tool for primary educators, the Boomwhackers are perfect for whole-class exercises that teach about rhythm, pitch, and movement. The Full Spectrum Set combines various Boomwhackers products, providing an octave and a half of range, along with eight Octavator Tube Caps that offer endless possibilities for activities, games, and performances. With the Boomwhackers Full Spectrum Set, the joy of music becomes an inclusive and enriching experience for everyone, fostering creativity, cooperation, and a love for music in a fun and accessible way.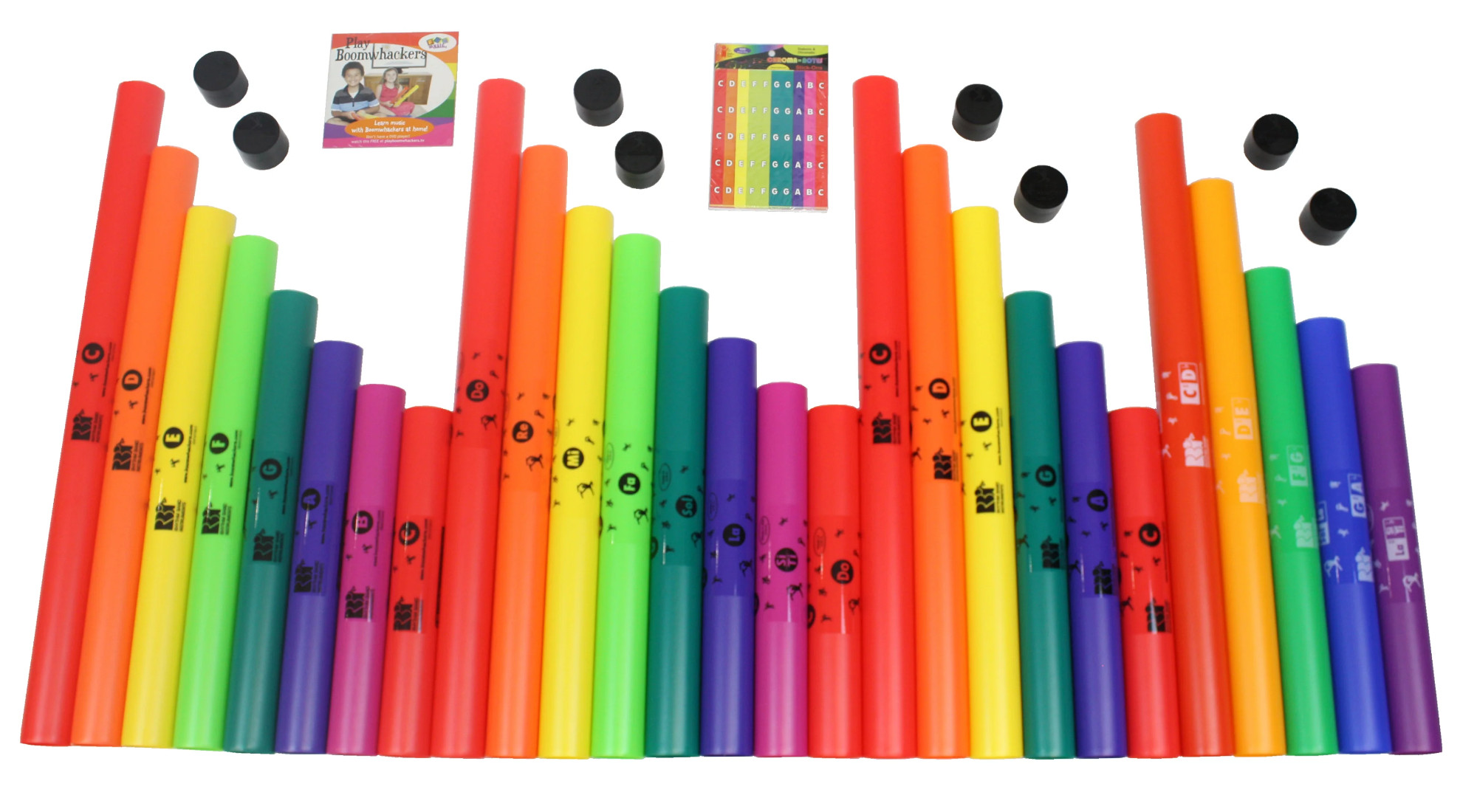 Boomwhackers Full Spectrum Set
The Drum Kits (and a practice pad to start)
So, drums can sometimes be quite loud. They don't have to be but they certainly can be. Particularly perhaps when one is learning a new instrument and delicacy and touch is not yet honed. With that in mind, here are a few examples of excellent electronic drums which allow one to practice all the coordination involved, without impacting upon anyones mental health. They are compact, and much, much quieter.
Check out our drum section here for a wealth of sticks, practice pads and accessories or our full Drums & Percussion section for a more comprehensive look at what we currently hold. Again, if you can't find what you need, definitely get in touch via the Intercom button below. Our friendly and knowledgable staff are always on hand to help.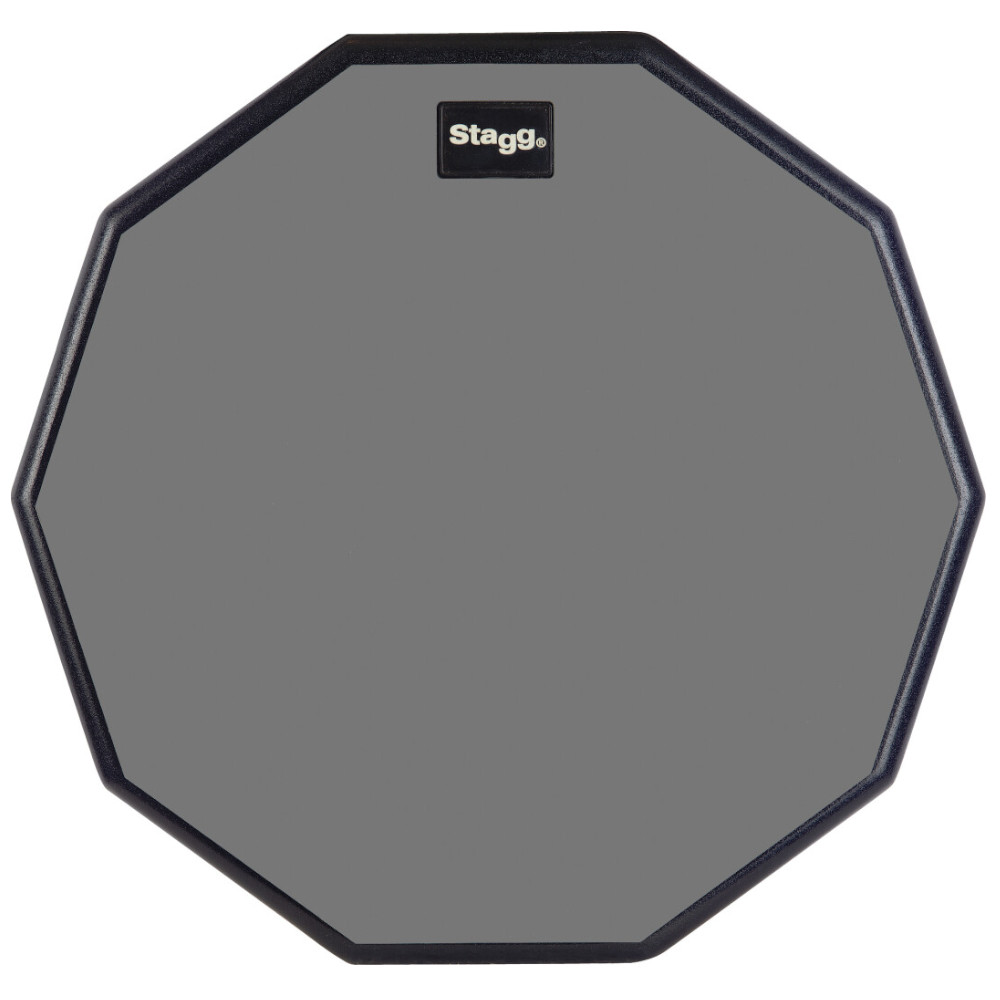 Stagg TD-12R 12" Ten Sided Desktop Practice Pad: It all begins here. The Stagg TD-12R 12" Desktop Practice Pad, the ultimate companion for drummers looking to enhance their skills anytime, anywhere. This compact and portable practice pad is designed to provide a realistic feel and response, allowing you to practice drumming techniques with precision and control. Whether you're a beginner mastering rudiments or an experienced drummer refining your chops, the Stagg TD-12R offers a quiet and convenient practice solution that won't disturb others.

The 12" playing surface ensures a natural rebound and excellent stick response, giving you a genuine drumming experience. Its non-slip rubber base keeps it stable during intense playing sessions, allowing you to focus on your practice without distraction. With the Stagg TD-12R 12" Desktop Practice Pad, you can elevate your drumming skills, perfect your technique, and become a more confident and accomplished drummer wherever you go.
Roland TD-02K V-Drums Electronic Drum Kit: The Roland TD-02K V-Drums Electronic Drum Kit is the ultimate starter kit for aspiring drummers embarking on their musical journey. This compact electronic drum kit is the most space-efficient in its series, making it an excellent choice for beginners and returning drummers alike. Designed to provide a low-volume experience, the TD-02K features four ultra-responsive drum pads and three equally responsive cymbal pads, all made from resilient rubber material for a realistic rebound and feel. The included TD-02 module boasts 16 expressive kits, delivering high-quality sounds that cater to beginners' needs. With an onboarding coach, this module allows you to track your progress and refine your skills as you develop. Its compact size allows for easy placement in any room corner, making the most of minimal space.
Perfect for home practice, this affordable and space-conscious drum kit is the ideal starting point for any drummer, and its easily adjustable height makes it suitable for younger players as well. With the Roland TD-02K V-Drums Electronic Drum Kit, your drumming journey begins on a high note, offering a responsive and enjoyable playing experience for drummers of all ages and skill levels.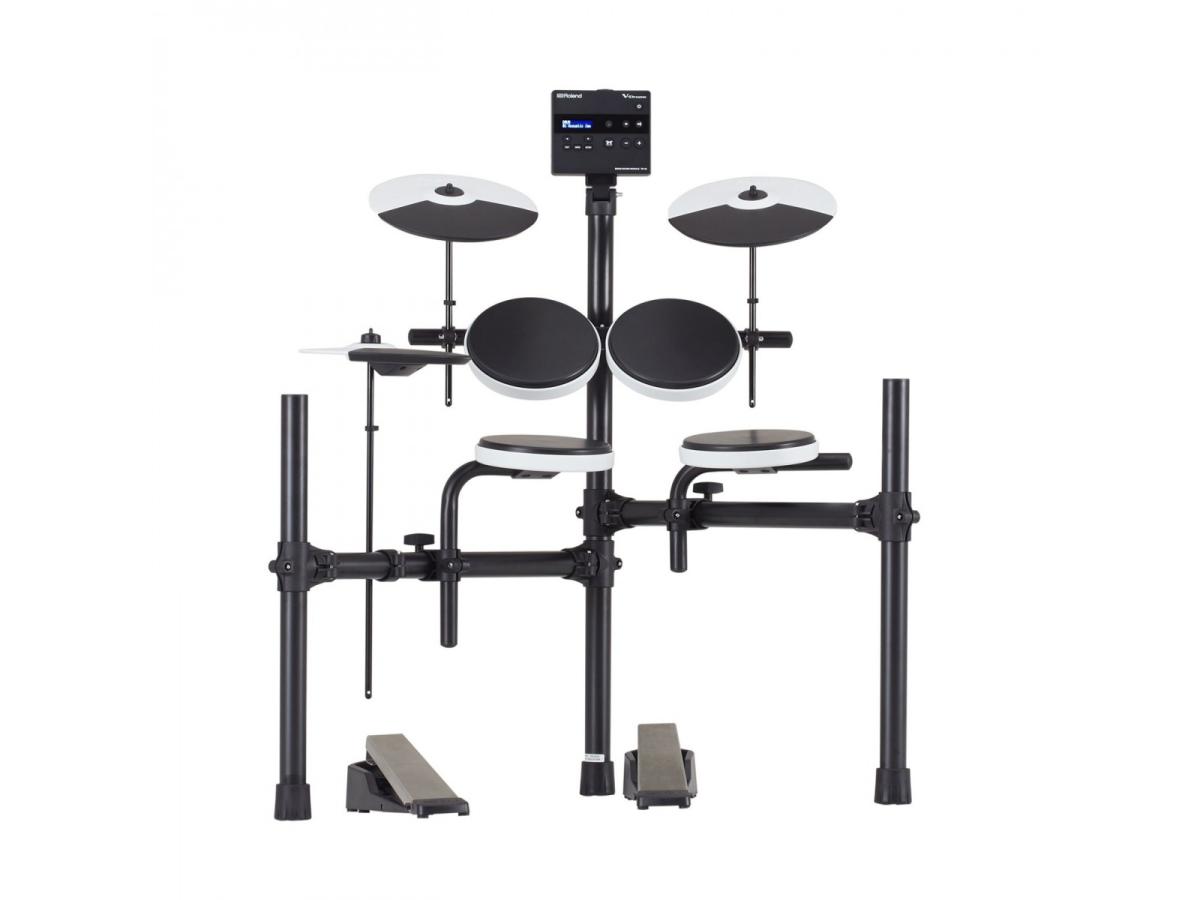 The Roland TD-02 Kit
Alesis Nitro Mesh Electronic Drumkit: The Nitro Mesh Electronic Drum Kit offers a premium playing experience with its high-quality mesh heads, providing accurate rebound, resistance, and an overall feel similar to that of an acoustic kit, without the loud and bulky shells. The mesh heads are also more sensitive, resulting in a more authentic and dynamic sound, especially with the dual zone trigger for the snare and snare rim. Not only does the Nitro Mesh deliver a natural feel, but it also ensures ultra-quiet response, allowing for extended practice sessions without disturbing neighbours.

Perfect for beginners and experienced drummers looking to refine their skills, the Nitro is equipped with a range of practice features. With 60 built-in tracks in the module, you can play along with drums or disable them entirely to immerse yourself in the groove. The metronome function enables you to set a specific BPM (beats per minute) for precise practice. Moreover, you can easily record your performances and play them back to evaluate your progress at the touch of a button. The Nitro Mesh Electronic Drum Kit is the ultimate tool for honing your drumming skills, offering an unmatched practice experience that will inspire and elevate your playing to new heights.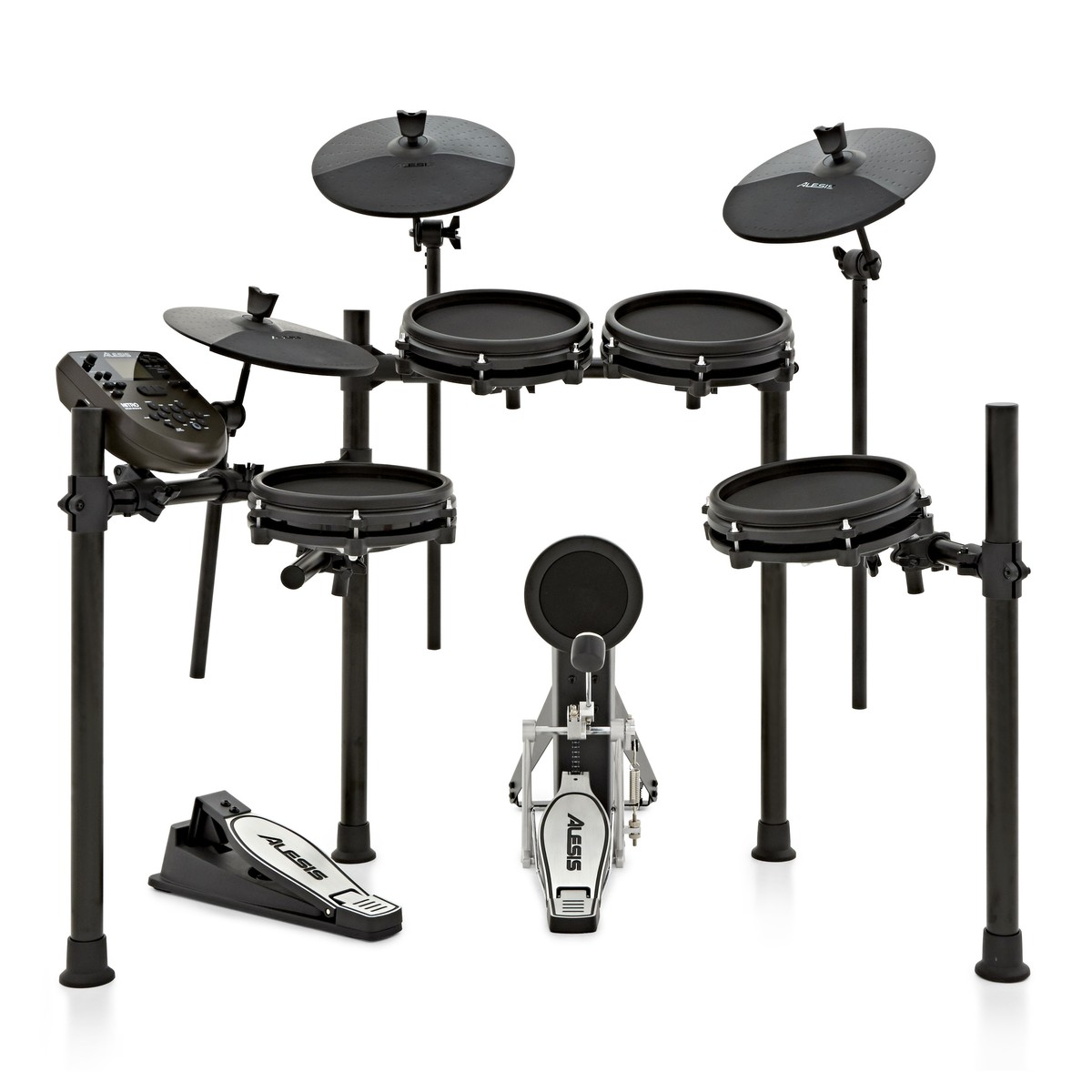 Alesis Nitro Kit
Roland TD-07DMK V-Drums Mesh Electronic Drum Kit: The Roland TD-07DMK V-Drums Electronic Drum Kit is the ultimate home kit with a surprisingly compact footprint. Its small size doesn't compromise on expression, as the CY-5 crash and ride cymbals deliver dynamic playability despite their dimensions. The stand-mounted kick pad provides an authentic bass drum sound without occupying extra space. The ultra-quiet, double-ply mesh heads on the smaller pads offer an incredibly realistic stick feel and nearly silent response, allowing for undisturbed practice sessions. Despite its compact design, the TD-07DMK packs a massive sound, offering a wide range of authentic drum kits covering various styles and genres. With deep editing capabilities, you can transform the preset sounds into your own unique signature sound.

Roland's V-Drums have earned a stellar reputation in the drumming world for being the most realistic, authentic, and best-sounding electronic drum kits available. Catering to drummers of all skill levels, the TD-07DMK lives up to this reputation by delivering an easy-to-play and high-quality kit that surpasses others in its price range. Whether you're a beginner or a seasoned player, the Roland TD-07DMK V-Drums Electronic Drum Kit is the perfect choice to embark on an exceptional drumming journey from the comfort of your own home.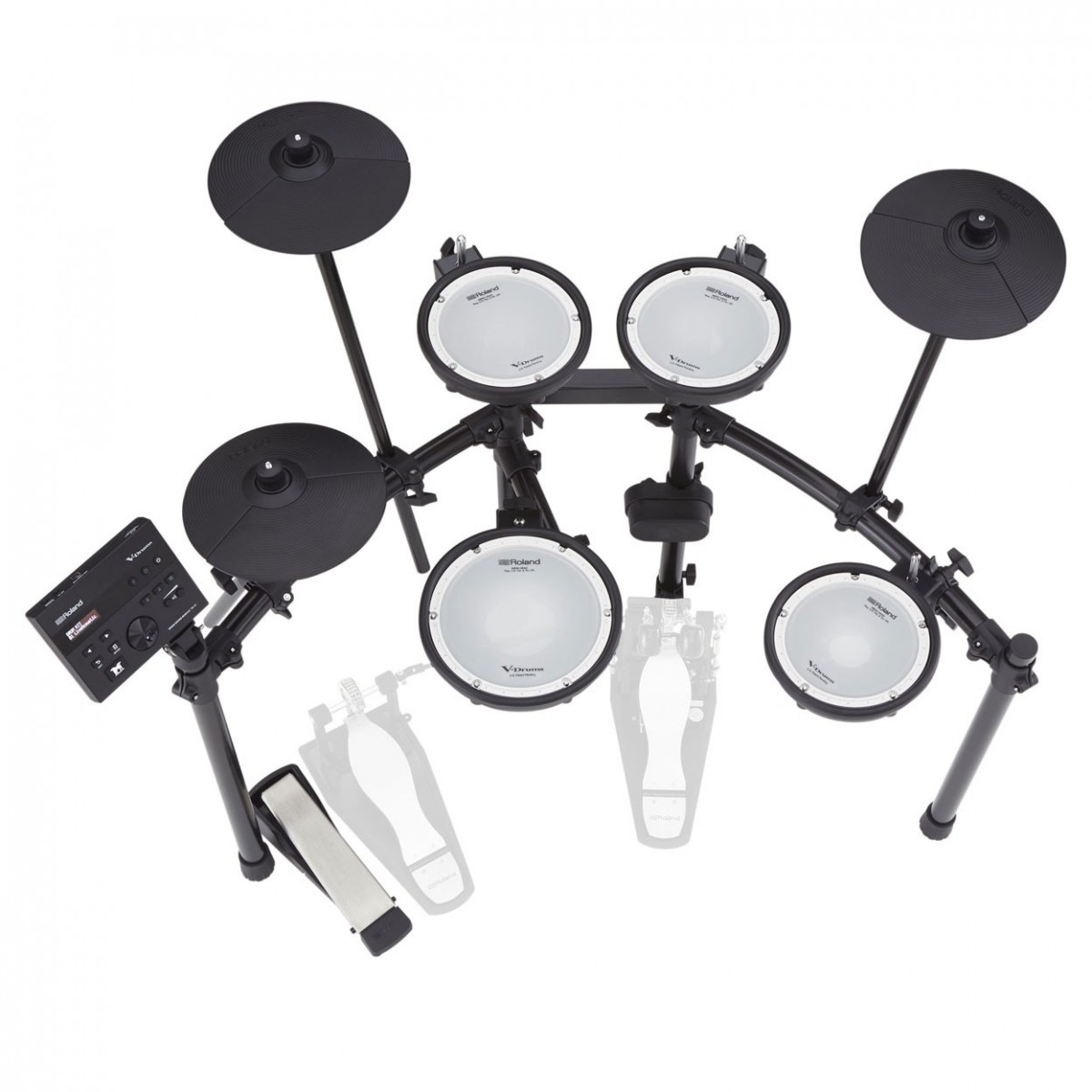 The Roland TD-07DMK Kit
That's it for this look at some of the amazing percussion instruments that we have in the shop for budding students of the drum. From funky tuned percussion to high quality electronic drum kits, we have everything you need to embark on a career in music.
So, shop online or pop in to Musicmaker to try these wonderful instruments out for yourself. And as ever, if you have any questions or can't find what you need, get in touch. Our friendly and knowledgable staff are on hand to assist as always.