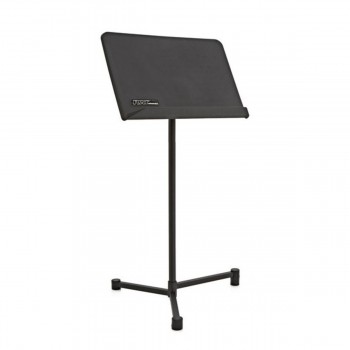 RATstands Performer 3 Stands - Box of 6
The RATstands Performer 3 Stand is a professional music stand that is built to last. The Performer 3 is the world's first stand to feature a fully adjustable friction lock to keep the tray in place. If you require the stand to hold multiple scores, then simply turn the screw at the top of the stem. The newly designed injection moulded tray features a honeycomb back for enhanced strength and stability.
The Performer 3 has been manufactured using a special polymer which does not ring when knocked - a must-have for studio work. The strong and rigid stem is constructed from heavy-gauge steel to ensure the stand doesn't sway. The Performer 3 was designed to be compact and space-saving, with a closed height of almost 25% less than comparable stands. This product is a box of 6 Performer 3 Stands.
Specifications
Construction
Structural Parts: Steel

Feet: Natural Rubber

Tray: Polypropylene

Coating: Black Powder Coat
Dimensions
Tray Size: 499 x 3242mm (20.7 x 12.7in)

Lowest Height To Bottom Of Score: 699mm (27.5in)

Tallest Height To Bottom Of Score: 1320mm (52.0in)

Nesting Pitch: 60mm (2.4in)

Floor Area Occupied By 18 Stands: 1690 x 423mm (64 x 17in)

Weight: 2.9kg (6.4lb)
Write a review
Your Name:
Your Review:
Note: HTML is not translated!
Enter the code in the box below: