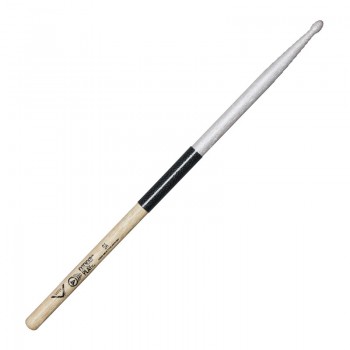 Vater Extended Play 5A Wood Tip
Vater Extended Play 5A Wood Tip
The Vater R&D Team have introduced a new innovation in drumsticks that guarantees increased durability and no breakage due to wear in the rimshot area. For the past few years, Vater have been working on what is now called the Extended Play Series.

The Vater Extended Play Series is an extremely durable drumstick that has two distinct features to help address issues of common wear and tear on a players' drumsticks. The first feature is a pearl colored, specially formulated durable finish that protects the tip and shoulder area of the stick from early chipping and cracking. The second feature is our exclusive 3 inch Stick Shield located in the rimshot area, that is highly impact resistant and 8X stronger than Steel with maximum tensile strength. The grip area of the stick has the same great-feeling finish as found on all Vater Sticks. Extended Play sticks offer the optimal balance and feel of a Vater hickory stick, with advanced durability and resistance to rimshot fatigue and breakage. Patent Pending. Visit vater.com for warranty info.

Features
Durable Finish on tip and shoulder

Stick Shield prevents wear and breakage in the "rimshot" area

Same great balance and feel as standard models, but with unmatched durability

GUARANTEED against breakage due to wear in the area protected by the Stick Shield
Write a review
Your Name:
Your Review:
Note: HTML is not translated!
Enter the code in the box below: