06 Apr

Posted By
Blackstar
,
Fender
,
Boss
,
Vox
,
Katana
,
Fly 3
,
Headphone
,
Digital
,
Tube
,
Valve
,
Combo
,
Amp
,
Amplifier
,
Watts
,
Speaker
,
Celestion
Guitar Amplifiers: A Beginner's Guide
Alright! So you want to play electric guitar. Maybe you've even chosen the guitar you want to start playing on but then, there's this thing to consider; amplification. There are choices, so many choices and it can certainly be a little confusing if this is your first foray into the world of Electric Guitar. Well, we thought we could help, so here's a little article in which we shall see what an amplifier actually is, what the differences are and make a few simple recommendations to hopefully get this journey off to a glorious beginning. So, let's see...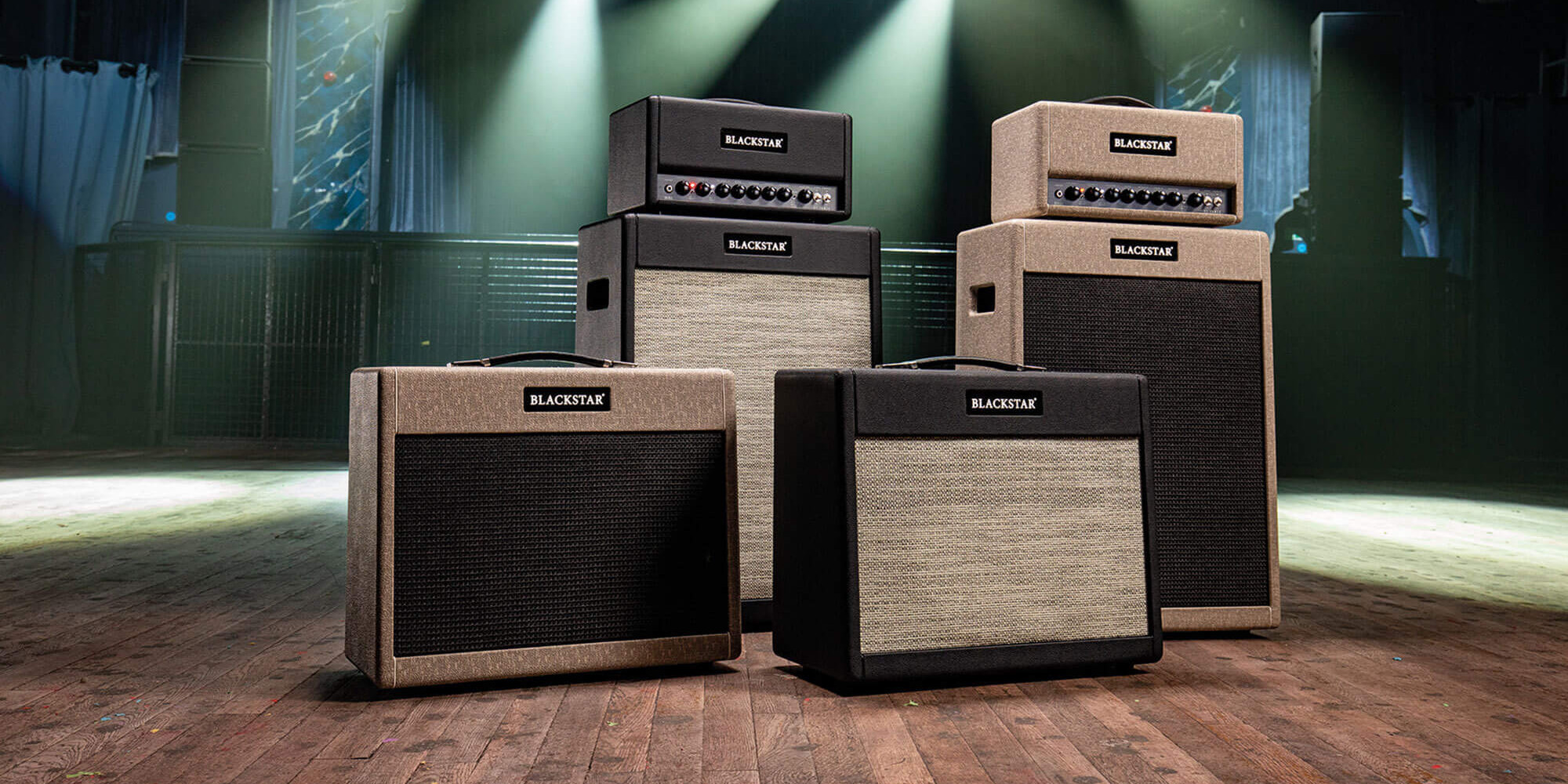 Lovely, aren't they?
What the heck is it?
It seems simple (or perhaps not...) but it's always good to know the basics.
A guitar amplifier is an electronic device that is used to amplify the sound of an electric guitar. It is made up of several components, including an input jack for the guitar, a preamp, a power amp, and one or more speakers.
When a guitar is plugged into an amplifier, the signal from the guitar's pickups is sent to the preamp, which processes the signal and prepares it for amplification. The preamp can include features such as tone controls, gain and volume controls, and effects such as reverb or distortion.
Once the signal has been processed by the preamp, it is sent to the power amp, which is responsible for amplifying the signal to a level that can drive the speakers. The power amp can also include controls for adjusting the volume and overall tone of the sound.
Finally, the amplified signal is sent to one or more speakers, which convert the electrical signal into sound waves that can be heard by the listener.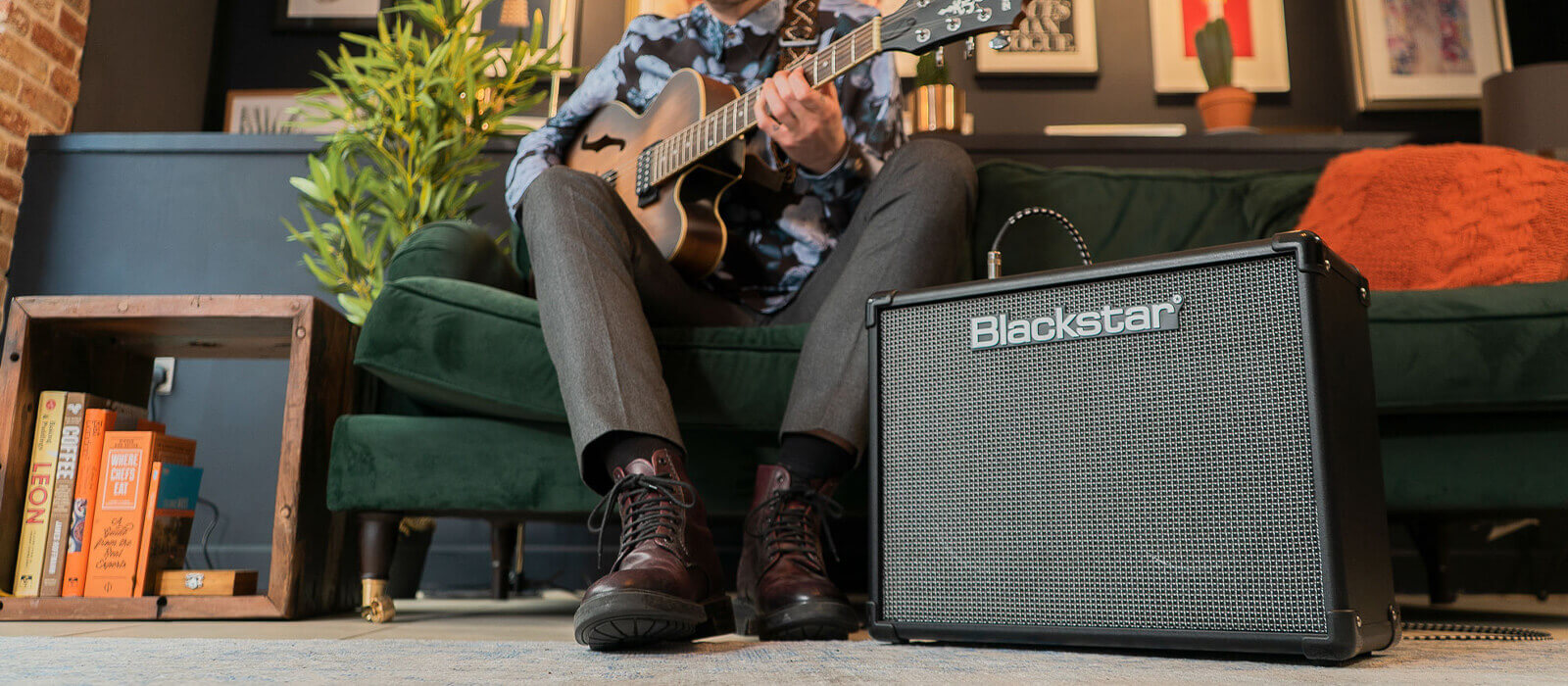 Just like that. This is the Blackstar ID:CORE series, brilliant digital combo amps
Types of Guitar Amplifiers:
There are many types of guitar amplifiers, but the most common ones are:
Combo Amplifiers: These are amplifiers that have both the amplifier and the speaker in one unit. They are convenient, easy to carry, and perfect for small gigs or practice sessions.
Head and Cabinet Amplifiers: These are amplifiers that have a separate amplifier unit (the head) and a separate speaker unit (the cabinet). They offer more versatility and are ideal for larger gigs or professional use.
Modeling Amplifiers: These are digital amplifiers that simulate the sound of various types of amplifiers and effects. They are a good option for beginners or for those who want to experiment with different sounds.
Tube Amplifiers: These are amplifiers that use vacuum tubes to amplify the sound. They are known for their warm, rich sound and are popular among professional musicians.
Solid State Amplifiers: These are amplifiers that use transistors to amplify the sound. They are known for their reliability and durability.
Headphone Amps: A guitar headphone amp is a small amplifier designed to be used with headphones. It allows a guitarist to practice quietly without disturbing others, and typically includes a headphone jack and volume control. Some models may also include additional features such as tone controls, built-in effects, or auxiliary inputs for playing along with music.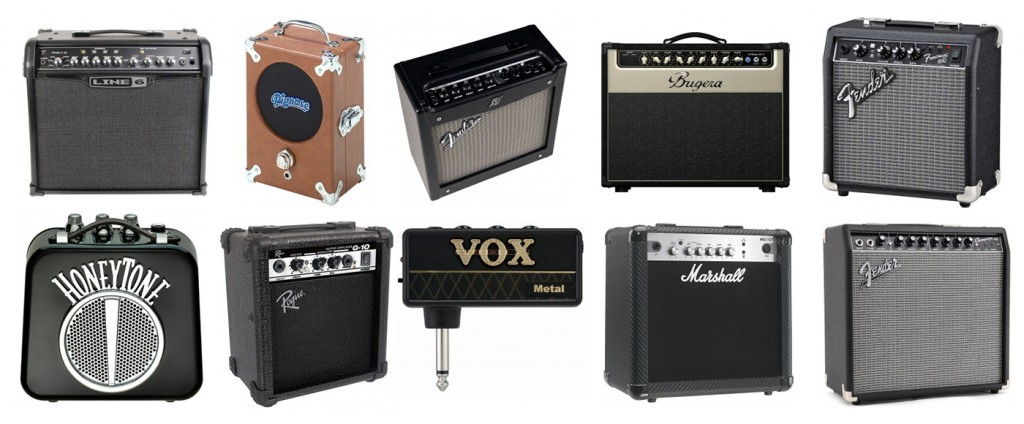 The styles and choices are vast, so we'll make some suggestions presently.
Features of Guitar Amplifiers:
Here are some of the features you will find on most guitar amplifiers:
Gain: This controls the amount of distortion in the sound. Higher gain settings will produce a more distorted sound.
EQ: This stands for "equalization" and controls the tone of the sound. It allows you to adjust the bass, middle, and treble frequencies.
Reverb: This adds a sense of space or ambience to the sound.
Effects: Many amplifiers have built-in effects such as delay, chorus, and flanger. These can be used to create a variety of sounds.
Power: This refers to the amount of power that the amplifier produces. Higher wattage amplifiers are louder and more powerful.

A few suggestions to get you started
As we have mentioned, the choices are wildly varied, so here's a few in-house suggestions that should help. Depending on your budget and application, there's always something available at Musicmaker.
Blackstar amPlug FLY Guitar - 3 Channel headphone guitar amp: The Blackstar amPlug FLY Guitar is a compact headphone guitar amplifier with three distinct channels for versatile tone shaping. It plugs directly into a guitar's output jack and features a built-in digital delay effect, as well as an aux-in jack for playing along with external audio sources. The amPlug FLY Guitar is designed for portable practice and can be powered by two AAA batteries, making it an excellent choice for guitarists on the go. It also features a foldable design for easy storage and transport.
Blackstar Fly3 - 3w Combo Mini Amp: The Blackstar Fly 3 Mini Amp is a low power, excellent sounding amp with built in tape delay. It also possesses the ability to combine the mini amp with the Fly 103 extension cabinet to create a 6w stereo setup ideal for full range music playback. MP3 input and Emulated/Headphones output make this amp a great guitar practice amp or a powerful MP3 speaker dock.
Fender Frontman 10G, Black: The 10-watt Frontman 10G features a 6" Special Design speaker and a adjustable gain control that rocks guitar tones from tube-emulated overdrive to full-strength ultra-saturated distortion - perfect for blues, metal and the famous Fender clean tone. Closed-back design gives a heavier bass response, 1/8" input lets you play along with media players, and 1/8" headphone output is great for silent practice.
Boss Katana-Mini Compact Guitar Amplifier 7W: BOSS Katana amps have received accolades from guitarists everywhere for their fantastic sound and feel, onboard effects, and great value. Now, the Katana-Mini makes serious Katana tone accessible in a small, go-anywhere amp that runs on batteries. Offering sound quality that far exceeds other amps in its class, this miniature powerhouse features an authentic multi-stage analog gain circuit for big, expressive sound, plus a traditional analog EQ and an onboard tape-style delay. Ultra-compact and travel-ready, the Katana-Mini delivers inspiring Katana tone anywhere you want to play.
Blackstar Debut 50R 50W 1 x 12" Combo Amp - Black: The Blackstar Debut 50R is a 50-watt, 1 x 12" combo amplifier that offers versatile tone shaping and a wide range of features. It features a 12" Celestion speaker, as well as two channels (clean and overdrive) with separate EQ controls. The overdrive channel also includes a boost switch for added gain. Additionally, the Debut 50R includes a built-in reverb, as well as an effects loop for integrating external effects. Other features include a line output, headphone output, and a footswitch input for hands-free control of channel switching and boost functions. The Blackstar Debut 50R is an excellent choice for guitarists looking for a versatile, reliable amplifier for gigging and recording.
In summary, a guitar amplifier is an essential part of any electric guitar setup, and there are many types and features to choose from. At Musicmaker we have been providing amplifiers, guitars , support and much more to musicians of all ages for more than 40 years, so our knowledgable staff are always on hand to help. Call in to our shop in Dublin City or get in touch, we are here to answer questions and get you the perfect amplifier for your budget and musical adventures.